Jay Peak, Burke, Related Properties Owe Towns $2.5 Million in Back Taxes, Fees
The EB-5 related properties have missed tax payments in multiple towns this year.
Thursday, November 17, 2016, NewEnglandSkiIndustry.com
---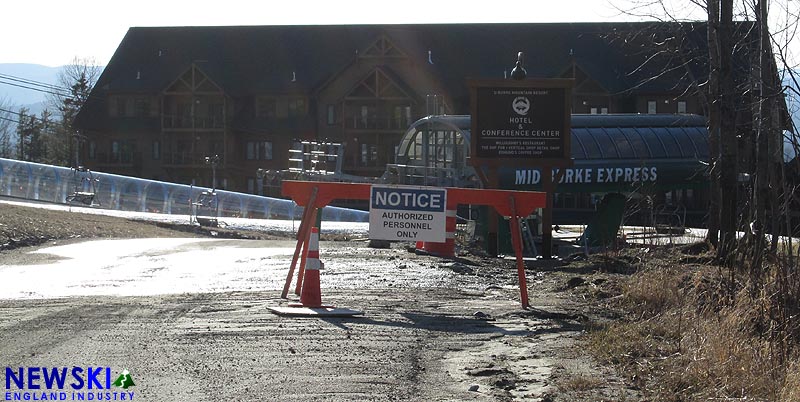 Burke Mountain Hotel (file photo)

Jay Peak, Burke Mountain, and their related EB-5 projects now owe three small Vermont towns $2.5 million in back taxes and fees, VTDigger reports.

The Federally appointed Jay Peak receiver missed an October 14 deadline for the town of Jay, resulting in a $2 million bill. At the time, receiver Michael Goldberg stated, "I'm trying to work with everyone here, if they [officials from the town of Jay] don't want to work with us they'll be put back to the line."

The November 4 town of Burke deadline was also missed, resulting in a $440,991 bill, VTDigger reported on November 7.

Most recently, the November 15th town of Newport deadline was missed for properties proposed for EB-5 retail and biomedical developments never constructed, resulting in a $55,012 bill, VTDigger reported today.

Background
The SEC took control of the properties on April 13, 2016, alleging that Ariel Quiros and Bill Stenger were running a Ponzi scheme that was defrauding investors. The businesses were placed in receivership under Michael I. Goldberg, with Leisure Hotels and Resorts of Kansas City appointed to run the resorts. United States District Judge Darrin Gayles, appointed to the court by President Obama in 2014, is presiding over the case.

Both the SEC and the State of Vermont both filed lawsuits against Q Resorts CEO Ariel Quiros and Jay Peak CEO Bill Stenger.

A cornerstone of the SEC's lawsuit is the allegation that margin loans were taken out with EB-5 funds as collateral, a strategy that Quiros described in detail. Quiros and banker Joel Burstein both stated that Stenger participated in margin loan conversations.

When questioned by the SEC, Stenger initially denied any knowledge of margin loans. However, when presented with an e-mail from former CFO Mike Dupont questioning the Raymond James EB-5 accounts and margin loans, Stenger attacked his former employee, stating, "I will tell you, and I'll put it on the record, he's a depressive character. One day he's up, the next day he's down. And it was widely known. And it was one of his issues. He has a depression problem. And whether he got up that morning and was having a hissy fit and decided he was going to, you know, make an issue out of something, I don't know."

In a sworn statement, former Controller John Carpenter also described issues when asking Stenger questions about the accounts, stating, "Throughout my employment at Jay Peak, I experienced difficulty in obtaining access to the Raymond James account documents."

Carpenter left Jay Peak after less than two years, stating, "Ultimately, Mr. Stenger failed to alleviate my concerns about the additional cost growth and how it would be funded."

Stenger announced he and the SEC had reached a settlement on September 1. The SEC remains in pursuit of Ariel Quiros. No criminal charges have been filed.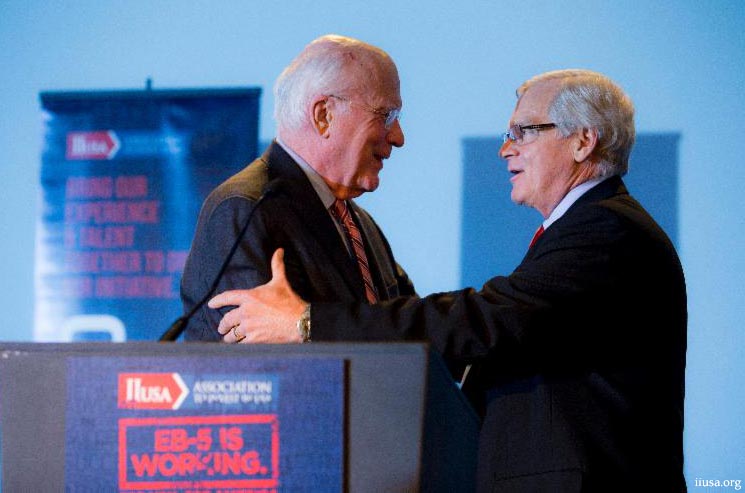 Senator Patrick Leahy and Bill Stenger

Vermont Senator Patrick Leahy, 76, had deep involvement with the alleged Ponzi scheme. The longest tenured Senator in the United States, Leahy took credit for starting the EB-5 program in Vermont, had a family member involved with the now failed Newport component of the project, and repeatedly appeared with and praised Stenger and Quiros.

In 2009, just months after receiving $4,800 from Stenger, Leahy brought him to Washington to testify at a Senate Foreign Investor Program hearing.

In 2014, Leahy traveled to Shanghai and Hanoi to join Stenger in investor meetings, just weeks before receiving $5,000 from Jay Peak EB-5 Legal Counsel.

On April 13, 2016, while the Q Burke offices were being raiding by SEC investigators, Senator Leahy stated at a hearing, "If this Regional Center program is to continue, it must be reformed." When asked two days later if his sudden change in position was influenced by a tip from the SEC, Leahy responded, "It doesn't ring a bell."

At a press conference on April 15, Leahy blamed Tea Party Republicans for a lack of EB-5 oversight, yet also credited the program's oversight for "finding out what's going on." Leahy also stated the EB-5 program should be terminated if reform legislation isn't enacted.

When asked about Stenger's thousands in campaign contributions, Leahy responded, "not thousands." When confronted with the $4,800 in 2009 contributions, Leahy responded, "That was in my last election, I haven't had any in this election" and that he has instructed his staff to give all of the contributions to "some charity in the Northeast Kingdom that would enable people jobs."

When asked about his relationship with Stenger, Leahy called him a friend, but quickly added that Stenger is a Republican.

Leahy was elected to his 8th term in the Senate this month with 61% of the vote.


Newport hole and AnC Bio site go delinquent on taxes too - VTDigger

Related Stories on NewEnglandSkiIndustry.com
Burke Could Be Sold This Year - June 14, 2023
Pacific Group Resorts Completes Acquisition of Jay Peak - November 2, 2022
Judge Approves Jay Peak Sale to Pacific Group Resorts - September 17, 2022
Pacific Group Resorts Places Highest Bid for Jay Peak - September 8, 2022
Jay Peak Sale Process Kicks Into Gear - August 2, 2022
Former Jay Peak Owner Sentenced to Prison - April 29, 2022
Former Jay Peak CEO to Sentenced to 18 Months in Prison - April 14, 2022
Former Jay Peak CEO to Plead Guilty - August 11, 2021
Former Jay Peak Owner Pleads Guilty to Federal Charges - August 14, 2020
Former Jay Peak Owner to Plead Guilty - July 11, 2020
More Information
comments powered by