Jay Peak and Q Burke Taken Over by SEC
Owners Ariel Quiros and Bill Stenger have been accused of operating a Ponzi scheme involving $200 million in fraud.
Thursday, April 14, 2016, NewEnglandSkiIndustry.com
---
Following a raid of offices, the Securities and Exchange Commission (SEC) has frozen the assets of Jay Peak and Q Burke and filed fraud charges against the owners. In addition, the State of Vermont has filed a civil suit.

Quiros and Stenger have been stripped of their authority at Q Burke and Jay Peak while investigations continue. The SEC has appointed a receiver over the companies to stop any additional spending of investor assets. Leisure Hotels and Resorts of Kansas City has reportedly been selected to run the businesses in the meantime. No arrests have been made, but state criminal charges are "entirely possible," according to an official.

According to the SEC, "in Ponzi-like fashion, money from investors in later projects was misappropriated to fund deficits in earlier projects. More than $200 million was allegedly used for other-than-stated purposes, including $50 million spent on Quiros's personal expenses and in other ways never disclosed to investors."

The State of Vermont Attorney General announced State of Vermont v. Ariel Quiros, William Stenger et. al., following the government raid and securing of Q Burke's offices.

According to the complaint, $200 million of the $350 million EB-5 funding raised was misused.

EB-5 funds were allegedly redirected to:
- Purchase Jay Peak Resort
- Purchase Q Burke Resort
- Obtain a personal line of credit to pay personal income taxes
- Pay taxes for an unrelated Quiros company
- Purchase a luxury condominium in Trump Place New York
- Pay margin loan interest and fees
- Pay margin loan debt

Senators Bernie Sanders and Patrick Leahy were public promoters of the projects, while Governor Peter Shumlin came under fire for travelling with Stenger on an EB-5 fundraising trip to Asia. Shumlin refused to respond to a request to release e-mails pertaining to his involvement.

Background
In 2007, the Vermont EB-5 Regional Center was rechartered. Under the EB-5 program, a foreigner can invest $1 million in an approved United States business (which must then create jobs), in exchange for a green card. With the Northeast Kingdom labeled a Targeted Employment Area, the minimum investment is cut in half to $500,000, making participating rural businesses such as Jay Peak more attractive.

The Quiros/Stenger ownership group has been in place at Jay Peak since 2008. Its first large EB-5 funded project, the Tram Haus Lodge, opened in December of 2009. A $27 million indoor water park opened two years later.

Quiros purchased Burke Mountain in 2012, renaming it Q Burke in 2013.
Ground was broken for the Q Burke Hotel in June 2014 and for AnC Bio in May 2015. While construction was completed at Q Burke Hotel for what was to be a winter 2015-16 opening, VTDigger reports no work has been conducted at AnC Bio. 11 liens were placed on the idle hotel due to non-payment.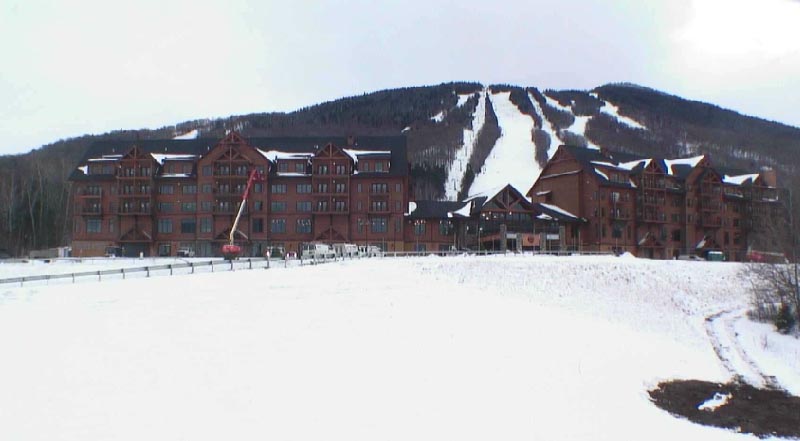 Q Burke Hotel, December 22, 2015



Related Stories on NewEnglandSkiIndustry.com


More Information


comments powered by