Catamount Hotel Lawsuits Dismissed
Zoning challenges have held up project.
Sunday, October 25, 2015, NewEnglandSkiIndustry.com
---
Two Article 78 lawsuits filed against the development of the Berkshire Mountain Club were dismissed by New York Supreme Court Judge Richard M. Platkin on October 14, moving the Catamount hotel one step closer to reality.

The lawsuits, filed by Swiss Hutte Inn and Restaurant owners Gert and Cynthia Alper, claimed that the Copake Planning Board failed to mitigate construction impacts and that the Copake Zoning Board of Appeals had rejected the project when a vacancy in the board resulted in a 2 to 2 vote in October 2014. The Zoning Board of Appeals later approved the project when a replacement was appointed.

Prior to the zoning delays, phase one construction was expected to produce 66 units for fractional or full ownership, opening in July 2016. Nearly one hundred more units could be constructed in subsequent phases. Prices are expected to start at $50,000 per 1/5th of a share of a unit. Rock Solid Development LLC is undertaking the project in conjunction with Catamount Ski Resort. While the ski area is located in both Massachusetts and New York, the hotel will be solely in the Empire State.

Future development at Catamount may include two more chairlifts and over half a dozen new trails.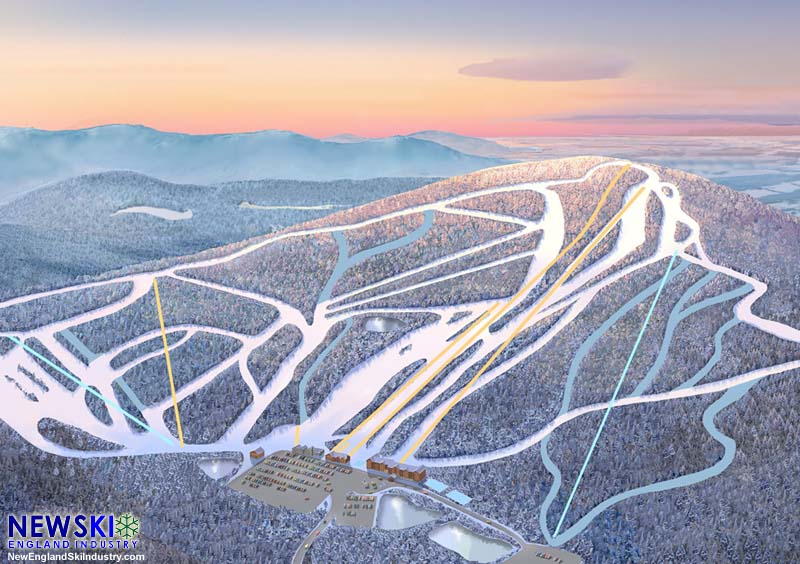 Catamount Development Rendering


Court OKs Catamount resort complex - Register Star

Related Stories on NewEnglandSkiIndustry.com
Lift Construction Continues Mid-Season - January 17, 2022
Lift Construction Continues Intra-Season - December 18, 2021
Lift Construction Continues as August Comes to a Close - August 29, 2021
Western Massachusetts Construction Ramps Up - July 28, 2021
Berkshire East and Catamount Announce Major 2021 Expansion - March 10, 2021
Bousquet Mountain Sold - May 29, 2020
Ski Areas Closing Due to COVID-19 Coronavirus - March 12, 2020
Lodge Construction in Progress Across New England - October 16, 2019
Lift and Lodge Construction In Progress Across New England - June 3, 2019
Catamount Announces Terrain Expansion - March 28, 2019
More Information
comments powered by