Mount Snow EB-5 Program Approved
Peak Resorts has been waiting for two years for the release of tens of millions of dollars in capital.
Wednesday, May 25, 2016, NewEnglandSkiIndustry.com
---
Peak Resorts announced its EB-5 program at Mount Snow received United States Citizenship and Immigration Services approval today, placing the company one step closer to being able to use $52 million in immigrant investor funds raised.

According to Peak Resorts, it expects initial I-526 petition approval 'shortly,' giving the company access to the funds, which are currently held in escrow. The company had originally expected approval within 18 months of its May 2014 filing.

Under the EB-5 program in Vermont, a foreigner can invest $500,000 in an approved United States business (which must then create or preserve 10 jobs per investor), in exchange for a green card. The Mount Snow project includes the addition of the West Lake snowmaking reservoir and a new development in the Carinthia base area.

Peak Resorts has invested $12 million into the Mount Snow EB-5 project and is in dire need of reimbursement following the poor winter. Many full time, year round employees have been let go or furloughed. Peak Resorts recently announced the suspension of its shareholder dividend, which was a condition set by lender EPR Properties prior to granting any further debt.

The $36.8 million acquisition of Hunter on January 7 increased Peak Resorts' long term debt to $118 million. The majority of the debt, through EPR Properties, carries an interest rate in excess of 10%.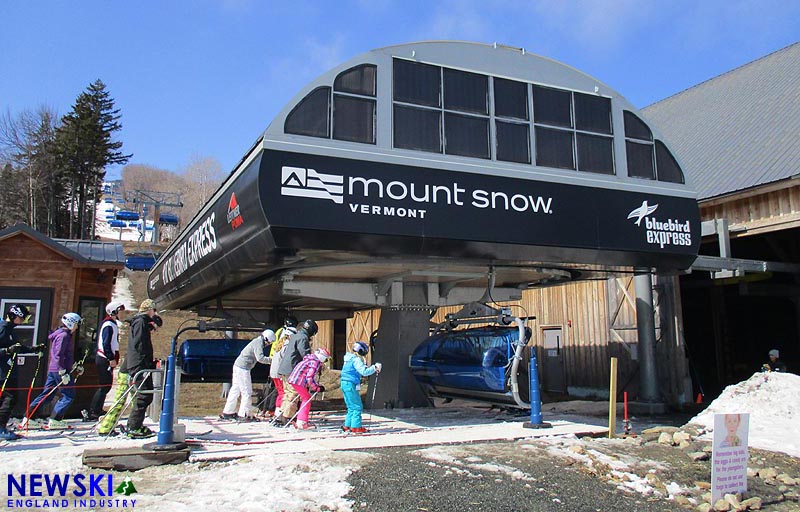 Mount Snow's Bluebird Express, March 27, 2016



Related Stories on NewEnglandSkiIndustry.com


More Information


comments powered by