REPORT: Q Burke Hotel Account Frozen by State
Millions of dollars are allegedly unaccounted for.
Monday, April 4, 2016, NewEnglandSkiIndustry.com
---
Q Burke Hotel's investment account has been frozen by the Vermont Department of Financial Regulation, according to VTDigger.

According to VTDigger, the State alleges millions of dollars of construction management fees were withdrawn from the Q Burke Hotel EB-5 funded account without explanation.

According to a Burlington Free Press article released today, "the state has yet to receive the documentation regulators need to consider unfreezing the escrow account."

In a separate VTDigger article released today, EB-5 investors in a related project, AnC Bio Vermont, are requesting refunds. According to the article, Stenger and Quiros want to "issue refunds from money collected from new investors."

AnC Bio construction appears to be stalled in early stages, while Q Burke Hotel remains idle.

Background
In 2007, the Vermont EB-5 Regional Center was rechartered. Under the EB-5 program, a foreigner can invest $1 million in an approved United States business (which must then create jobs), in exchange for a green card. With the Northeast Kingdom labeled a Targeted Employment Area, the minimum investment is cut in half to $500,000, making participating rural businesses such as Jay Peak more attractive.

The current ownership group has been in place at Jay Peak since 2008. Its first large EB-5 funded project, the Tram Haus Lodge, opened in December of 2009. A $27 million indoor water park opened two years later. Burke Mountain was acquired in 2012 and rebranded as Q Burke in 2013.

Ground was broken for the Q Burke Hotel in June 2014, with an opening scheduled for December 2015. The now-completed hotel remains idle, as general contractor PeakCM is holding the certificate of occupancy and a lien on the hotel until payment is received.

A recent report stated, "[t]he resort's president tells WCAX News there's a 50-50 chance it may not open for next ski season."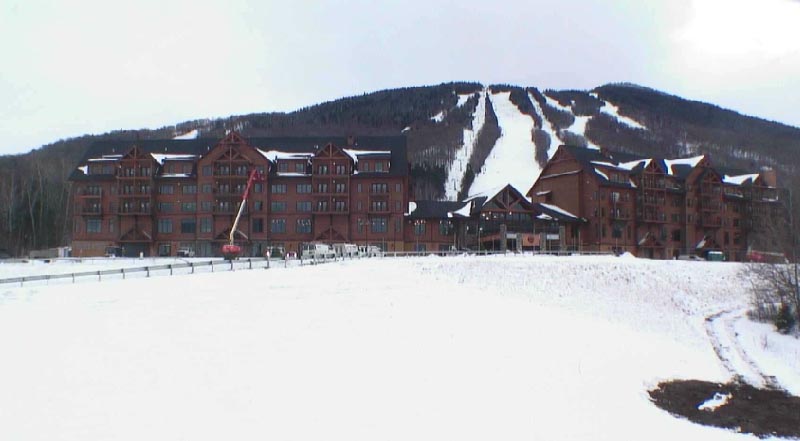 Q Burke Hotel, December 22, 2015


State freezes Q Burke investor account - VT Digger

Related Stories on NewEnglandSkiIndustry.com
Former Jay Peak Owner Sentenced to Prison - April 29, 2022
Former Jay Peak CEO to Plead Guilty - August 11, 2021
Former Jay Peak Owner Pleads Guilty to Federal Charges - August 14, 2020
Former Jay Peak, Burke Owners Indicted - May 22, 2019
Sale of Jay Peak and Burke Mountain Delayed - August 14, 2018
Vermont Settles with Quiros, Stenger over Jay Peak, Burke Scheme - July 12, 2018
Receiver: Jay Peak and Burke To Be Sold This Year - February 15, 2018
Quiros Surrenders Jay Peak and Burke in SEC Settlement - February 2, 2018
Burke Employee Killed in Snowcat Accident - December 18, 2017
Lift Construction Season Enters Final Phase - October 29, 2017
More Information
comments powered by