Large Scale Layoffs Announced at Q Burke
The Vermont Labor Rapid Response Team has been called in.
Tuesday, March 22, 2016, NewEnglandSkiIndustry.com
---
On the heels of a devastating winter and word of growing problems with its idle, $50 million hotel, Q Burke announced massive layoffs yesterday.

At least 180 jobs have been cut, including 45 full-time-year-round positions, according to the Caledonian Record. The paper reports the Vermont Department of Labor Rapid Response Team is now involved.

It is not known how the layoffs will impact Q Burke's EB-5 investors, who receive a green card in exchange for investing in an approved project that creates 10 jobs.

The struggling ski area was unable to open until January 1, some two weeks later than average. Q Burke is tentatively operating on a part time basis through Easter. The $50 million hotel was scheduled to open at the start of the season, however reports suggest 2016-17 operations are at risk.

Background
In 2007, the Vermont EB-5 Regional Center was rechartered. Under the EB-5 program, a foreigner can invest $1 million in an approved United States business (which must then create jobs), in exchange for a green card. With the Northeast Kingdom labeled a Targeted Employment Area, the minimum investment is cut in half to $500,000, making participating rural businesses such as Jay Peak more attractive.

The current ownership group has been in place at Jay Peak since 2008. Its first large EB-5 funded project, the Tram Haus Lodge, opened in December of 2009. A $27 million indoor water park opened two years later. Burke Mountain was acquired in 2012 and rebranded as Q Burke in 2013.

Ground was broken for the Q Burke Hotel in June 2014. VTDigger reports $120 million in EB-5 contributions is needed for Q Burke. PeakCM, the general contractor for the reportedly completed hotel, claims it is owed $5.5 million and will place a lien on the property if not paid this week.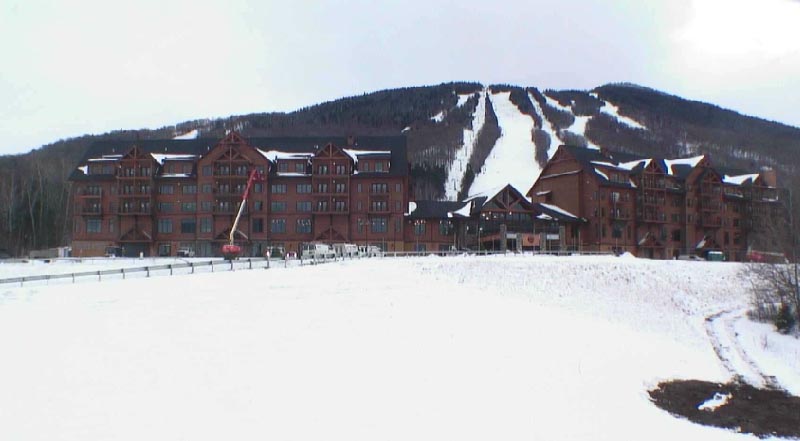 Q Burke Hotel, December 22, 2015



Related Stories on NewEnglandSkiIndustry.com


More Information


comments powered by