Mount Snow to Hold Cold Brook Sedimentation Meeting
Government remediation plan related to snowmaking reservoir is reportedly causing sedimentation.
Saturday, November 21, 2015, NewEnglandSkiIndustry.com
---
Mount Snow's West Lake snowmaking reservoir project has recently come under new scrutiny, according to a Vermont Public Radio report. The report says that the Cold Brook has become murky due to sedimentation.

Originally announced by Peak Resorts in 2007, the land for the project was acquired by Mount Snow in September of 2013. Downstream from the reservoir site are two ponds that were created by a previous landowner decades ago. Damage from Tropical Storm Irene in August 2011 resulted in the Cold Brook cutting into these ponds.

A meeting with the Vermont Department of Environmental Conservation and U.S. Army Corps of Engineers in early 2012 revealed concerns for the increase of water temperature of the Cold Brook due to the ponds. Mount Snow was asked to remediate the issue and as a result, a plan was approved by the government to fill the ponds with material excavated from the West Lake reservoir. Though filters were reportedly put in place, fine particles are entering the stream.

Clearing for the 12 acre West Lake took place over the winter of 2014-15 with the official groundbreaking taking place at the end of May. With a capacity of 120 million gallons, West Lake will be a 600% improvement over Mount Snow's current 20 million gallon snowmaking water storage. According to the Deerfield Valley News in 2009, Mount Snow will relinquish its water rights to Haystack's Mirror Lake once West Lake goes online. The EB-5 funded project is expected to be completed for the 2016-17 season.

The Cold Brook meeting at Mount Snow is scheduled for December 1.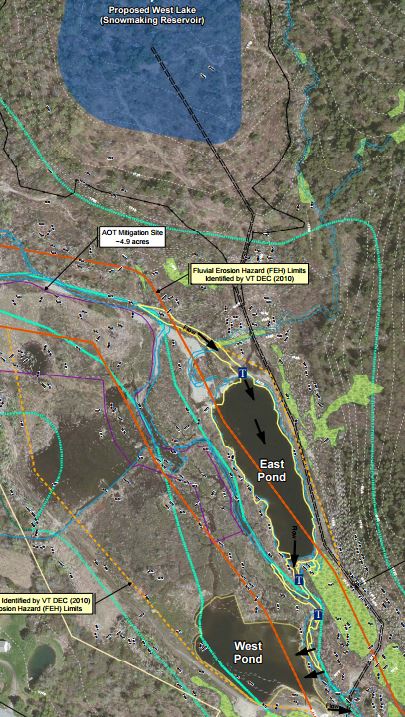 West Lake Map


Mount Snow Project Takes A Toll On Local Watershed - Vermont Public Radio

Related Stories on NewEnglandSkiIndustry.com
Southern Vermont Lift Construction in Home Stretch - October 16, 2022
Loon, Mount Snow Name New General Managers - March 16, 2022
Vail Announces Four New Lifts for 2022 - September 24, 2021
Fire at Mount Snow Mountain Operations Building - June 5, 2019
State Permitting Hampers Vermont Projects - August 20, 2018
Kelly Pawlak Departing Mount Snow to Become NSAA President - October 11, 2017
Mount Snow Snowmaking, Trail, and Lodge Construction Continues - September 26, 2017
EB-5 Funded Projects Gearing Up at Mount Snow - June 16, 2017
Government Approves Peak Resorts I-526 Petition, Unlocking Escrow Account - December 13, 2016
Peak Resorts Quarterly Report Reveals Growing Losses, Debt - December 8, 2016
More Information
comments powered by