Sugarloaf Closes Timberline Quad After Inspection Reveals Issues
The Borvig quad chairlift is of the same vintage as the closed Kine Pine lift.
Thursday, April 2, 2015, NewEnglandSkiIndustry.com
---
Following a detailed inspection, Sugarloaf has closed its Timberline lift. According to a press release, "an abnormal level of wear and tear to the drive shaft" resulted in management closing the lift until the component can be replaced. Snowcats will be used to provide skiers acccess to the upper mountain trails served by the Borvig lift.

The Timberline Quad was originally installed as the Whiffletree Quad in 1988, the same installation brand and season as the King Pine Quad. The Whiffletree Quad was reinstalled on the upper mountain as the Timberline Quad in 1996.

The King Pine Quad suffered a roll back on March 21, resulting in 7 injuries. The King Pine Quad will remain closed for the rest of the ski season. It is not known with the Timberline Quad will reopen.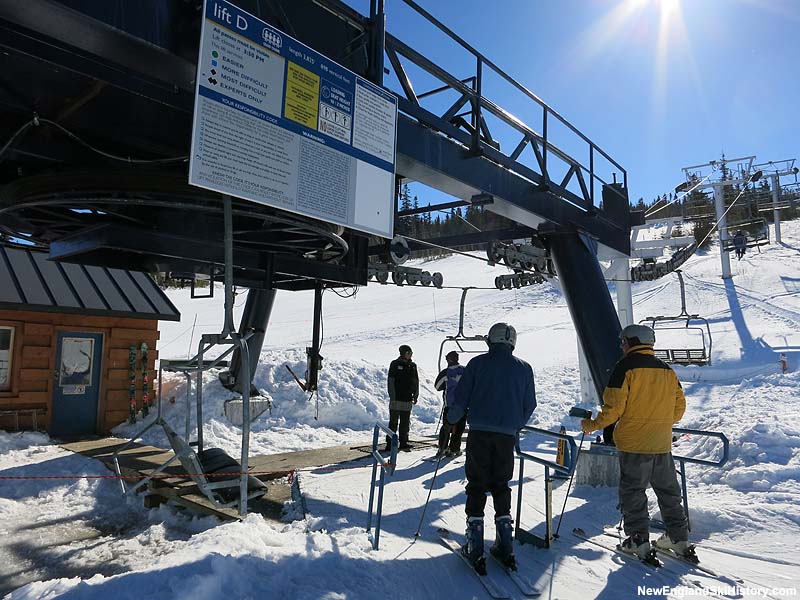 An Update on the Timberline Lift - Sugarloaf

Related Stories on NewEnglandSkiIndustry.com
Sugarloaf Announces Start of West Mountain Expansion - January 12, 2023
Sugarloaf Moving Forward with West Mountain Expansion - April 16, 2022
Boyne Announces Sugarloaf Expansion Plan - February 18, 2020
RFID Ski Pass Technology Growing in Popularity - November 5, 2019
Boyne Resorts Completes Purchase of Leased Ski Areas - May 9, 2018
Boyne Resorts to Purchase Leased Ski Areas - March 13, 2018
Sugarloaf Mogul Course Worker Dies After Fall - March 3, 2017
John Christie Passes Away - May 9, 2016
April Snowmaking in Progress at Sugarloaf - April 3, 2016
West Virginia Lift Accident Prompts Modifications to At Least Two Lifts in New England - February 24, 2016
More Information
comments powered by