Gunstock Master Plan Placed On Hold
The Gunstock Area Commission wants to study certain issues before proceeding.
Wednesday, March 2, 2022, NewEnglandSkiIndustry.com
---


In a contested special meeting held yesterday, the Gunstock Area Commission voted to pause the recently released master plan.

According to the Laconia Daily Sun, commissioners questioned the on-mountain hotel and expansion to the back side of the mountain, as well as environmental impacts.

The Gunstock Area Commission has faced turmoil due to disagreements with the Belknap County Delegation, which serves as the appointive agency for the commission. The commission sued the delegation last year over concerns of removing commissioners. Subsequently, commissioner Brian Gallagher resigned and the delegation nominated Dr. David Strang to serve the remainder of his term.

Commissioners Gary Kiesdaisch and Rusty McLear took issue with Strang voting at yesterday's special meeting, claiming he had not yet been properly sworn in. The Laconia Daily Sun reports that Kiesdaisch and McLear left the commission table when the rest of the commission rejected an offer to hold the meeting as an informal session. The commission then voted to drop its lawsuit against the delegation.

In February, prior to the shakeup, the commission reportedly altered the master plan by making the Eastside and hotel project the first phase. Upgrades to the existing resort had previously been presented as the first phase. The new first phase was estimated at $18.7 million in February, a $3.4 million increase over the $15.3 million presented by SE Group in December.

According to the Laconia Daily Sun, concerns with the master plan include potential land use restrictions involving the on-mountain hotel site, as well as conservation easements on the back side parcel. In addition, two environmental groups reportedly raised concerns with the master plan.

The commission also voted to halt the conversion of the Stockade Lodge to a full-service restaurant, a $400,000 project.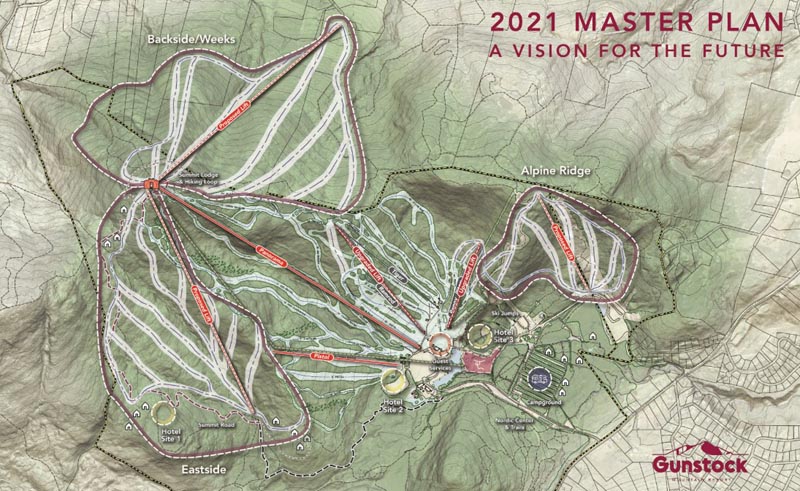 Gunstock master plan paused, suit against delegation dropped - Laconia Daily Sun

Related Stories on NewEnglandSkiIndustry.com
Gunstock Construction Projects Progressing - September 4, 2023
New Hampshire Construction Projects Progressing - August 6, 2023
Gunstock Financial Audit Finds No Material Weaknesses - October 22, 2022
Gunstock Reopens Adventure Park, But Questions Remain - August 8, 2022
Gunstock Management Rehired - August 2, 2022
Gunstock Drama Continues - July 27, 2022
Gunstock Suspends Operations Following Management Resignation - July 21, 2022
Gunstock Management, Commission Member Resign - July 20, 2022
Gunstock Presents $45.5 Million Expansion Proposal - December 4, 2021
Gunstock to Present New Master Plan in December - October 31, 2021
More Information
comments powered by