EXCLUSIVE: Interview with New Lost Valley Owner Scott Shanaman
Why Lost Valley was purchased and what the future plans are.
Thursday, November 5, 2015, NewEnglandSkiIndustry.com
---
On October 30, 2015, President of Aerial NDT Inspection, Inc. R. Scott Shanaman signed a purchase and sales agreement, as well as an interim management agreement, to acquire the assets of Lost Valley Ski & Banquet Resort. The deal is expected to close in January.

Located in Auburn, Maine, Lost Valley has been in operation since the 1961-62 season. The 240 vertical foot ski area features two chairlifts, snowmaking, and night skiing. The sellers took control of the area in 2004 and have incurred ten consecutive seasons of losses, nearly closing following the 2013-14 season.

Shortly after signing the agreement, Scott Shanaman took time out of his busy schedule to answer questions for NewEnglandSkiIndustry.com News.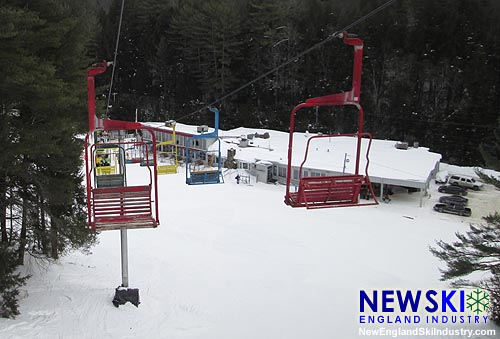 Q: When were you first exposed to Lost Valley, and what was your impression?
I was first exposed to Lost Valley years ago when I was in the University of Maine's ski industry program and looked into doing an internship for the owner at the time, Fern Pontbriand. Later on, Lost Valley became a non destructive testing customer of mine and has been for over 10 years.

Q: Where did you grow up skiing?
I learned to ski at Heidelberg ski area in Bernville, Pennsylvania. My father was on the ski patrol there and my brothers and I started skiing there when I was 2. I moved to Rhode Island a little later on and I skied at a little place called Yawgoo Valley, which was about 10 minutes down the road. When I went to the University of Maine at Farmington, I skied at Sugarloaf.

Q: You have a lift company, Aerial NDT, and a wide variety of skills. When and how did you become involved in the ski industry?
I started with an internship at Sugarloaf. They put me in the marketing department, but I didn't like it much. I always wanted to be in Mountain Operations, but wasn't really sure what part of it. They ended up putting me with the lift mechanics and I would come up and work with them a couple days a week. The lift maintenance manager ended up hiring me the next year. I had all of my classes set up so I would work as a lift mechanic at Sugarloaf Friday through Monday full time.

Q: When and how did you first become interested in purchasing Lost Valley?
The one thing that sticks out in my mind from meeting Fern and seeing the place was that I always liked the way the place was laid out. As a customer of mine, going there in the summer and looking at its location in the state and its proximity to population and the highway, I always thought the place had potential. Also, knowing its history, the Valley Engineering days, first snowmaking in the State of Maine, first night skiing in the State of Maine, Otto Wallingford inventing the powdermaker - every ski area in the country owned one of them; I couldn't understand why the place wasn't a goldmine. I always thought it had potential.

I mentioned it to them [the owners] off the cuff when I was there working last year. It wasn't really a serious thing at the time, but they gave me a call late this spring, after Memorial Day, saying that they were ready to move on and asked if I was interested or knew anyone who was. That's when I started thinking about it.

Q: When did discussions get serious?
About a month later.

Q: How did you arrange the purchase; are you self funded, have partners, and/or financing?
No partners, just my wife and I. We're getting financing through Camden National Bank.

It's under a purchase and sale and interim management agreement right now, due to the length of the closing process. We don't foresee any real hiccups. There are no disagreements between the parties or anything like that, but it simply takes forever to close on a loan.

Q: What roles do you and your wife April plan to have at the ski area?
To be determined, but I'll be there 24/7 once we get rolling. My wife's strong point is on the customer service side; she has no tolerance for poor customer service. My background is mountain operations, so I'll be overseeing the day to day of that. There is a General Manager at Lost Valley who is good with all the inside stuff and transactional side of the business.

Q: Your lift company is based out of New Hampshire. Have you already relocated or are you relocating to Lewiston-Auburn?
It's about an hour and a half, hour and forty five minute commute. I am not picking up the family and moving them in the middle of a school year. I'll be staying over there [Lost Valley] full time [this season], but the long term plan is my family and I will start looking for a place in the area next summer.

Q: Now that you're buying Lost Valley, what is the future of Aerial NDT?
I will continue to own and operate Aerial NDT. Aerial NDT's busiest time is spring through fall. I have a General Manager at Aerial NDT who's been with me for over 10 years. He runs the show on a daily basis, and I've got an office manager who takes care of the day to day stuff, so they operate quite well without me. The guys can do meat and potatoes of what Aerial NDT does on their own. There are no plans to relocate the company in the short term; we own the land and the building that the company is in. The State of New Hampshire is a good location for a company that services ski lifts all over the East Coast.

Q: What are your plans for the upcoming season?
I've got a lot of big changes planned, but I've got 5 to 6 weeks to get ready here, so there's not going to be any big capital improvements going into Lost Valley this year.

For this year, we're basically in clean up, fix up, spruce up mode at the moment, with the lodge, the lifts, the snowmaking, and the trails. When people drive in, hopefully they'll realize that things are looking better, things are looking up, and we're moving forward.

Q: What role will Friends of Lost Valley have in the ski area moving forward?
We've been in contact and I'm thrilled to have them on board. They seem to be very happy that there's change coming and forward movement. I'm more than happy to have them involved. They're a great organization. They volunteer a lot of time. They did wonders for that place last year. The enthusiasm is very appreciated. They're good at getting the word out about the place, planning events, and that kind of stuff. We plan to work with them.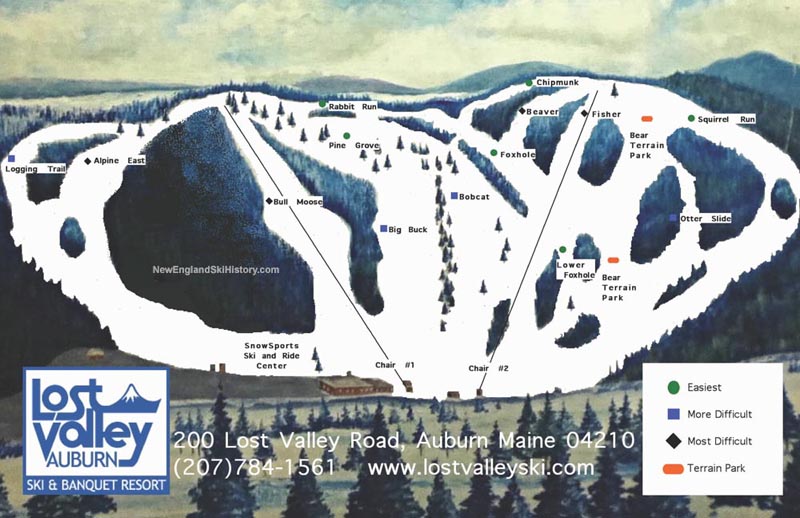 Q: Do you have any tentative improvement plans for your first full off-season, prior to the 2016-17 season?
Improving the lifts will be one of the biggest upgrades . Those are single speed lifts right now, so they're all or nothing lifts, you turn them on and they crank right up. They don't have a slow function. It's fine for the racers and it's fine for the experienced skiers, they don't have a problem with it, but when you're billed as the learn-to-ski-mountain, it's tough to operate with those types of drives. Change them over to variable speed drives would be the plan, so we can slow them down and they'll have a soft start on them. That will be one of the biggest upgrades we're doing, for sure.

Lighting. We're going to work on hill lighting this fall, prior to opening, but we'd like to look into the Efficiency Maine programs for putting more energy efficient lighting up on the hill; newer fixtures and better lighting on trails.

Installation of a conveyor for ski school and the learn to ski program.

Snowmaking on the on the Alpine East Side. As you're looking up the hill, to the left of [the T-Bar], there's a couple of trails over there and it's great terrain. Over the past couple of decades, when they needed snowmaking pipe to keep the main lines going, they would take it from there. They took all the hill lights from there. Getting that area back, I don't know about lighting, but at least getting snowmaking back on those trails would be in the plan.

I plan to put a tubing park in.

Q: Where do you plan to put the tubing facility?
The tubing facility plans right now would be away from the ski area, in between the house and the maintenance garage, up on an angle so the tube runs would come down into a flat area in front of the maintenance garage with a run out looking back toward the base lodge.

Q: The area is served by Hall double chairlifts that are 50 and 44 years old. As a lift expert, what is their condition and what do you see their useful lifespan as?
My Aerial NDT guys did a full structural inspection on the two lifts; ultrasound on the towers, base bolts, and climbing around the terminals, testing for cracks and all of that stuff. The lifts are solid, structurally and mechanically. We are in the process of painting lift 1, the rainbow lift. It's not going to be rainbow anymore, which some people will like and some people probably won't like.

Those Hall lifts are bombproof machines. They're well over 40 years old, both of them, however there are hundreds of those lifts operating all over the country, especially in New York and the Midwest. Those particular Hall lifts are good machines. A lot of the components are readily available. They have a long useful lifespan. As long as the structure's sound, you can replace the components.

In the long term, obviously we're going to want to do some lift upgrades, but until we need the additional capacity, they're fine. They need drive upgrades, but structurally and mechanically they're solid.

Q: The area also has a T-Bar that has not operated in over a decade. What are your plans for that lift?
More than likely that T-Bar will be coming out. Not that a T-Bar is not worth putting money into, but that particular T-Bar is probably not worth putting money into. The haul rope is bad on it, from what I understand. Right there, it makes it not worth it. It needs a lot and that particular machine is probably not worth it. We'll evaluate it, but we don't have time to do anything with it right now.

I wouldn't be opposed to putting another one back in over there and I plan to put a lift of some sort in back over there, but it's not in the immediate plans.

Q: How many acres are you buying?

It depends upon what survey you read. It's roughly 200 acres.

Q: How many of those acres are beyond the ski area boundary?
I would say probably over half.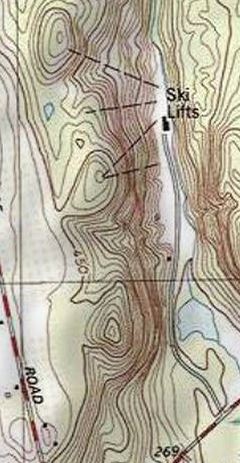 Q: With that undeveloped acreage, is there room for terrain expansion?
There's room for terrain expansion, but not a lot. If you're looking up at the hill, there are two peaks right now; one chair goes to one peak, the other chair goes to the other peak. Further over to the left, there is another peak where a chair could be put up and trails could be developed. That would be quite a ways down the road; we'd have to really get some people in there for that. But there is room for expansion, probably by about 25 percent.

Q: Do you have any medium to long term improvement plans for the ski area?
Base lodge improvements, especially efficiency of the heating systems; the heating of the base lodge is not very efficient at all. It's propane on one side and there's even still electric heat parts of the base lodge, so that's another Efficiency Maine deal I'd be looking into over the next couple of years, getting that stuff swapped out.

The first additional lift will be a conveyor, and in reality, the second additional lift will be a conveyor too. One would go to the left of the T-Bar, going up on an angle. [The other would go] on the other side of Chair 2. There's terrain over there we could regrade a little bit and have a nice learn to ski area tucked against the woods line.

There's also an old rope tow that I wouldn't mind putting back into service, just because I like rope tows.

Long term would be the addition of another chairlift. Maybe not new lifts, but retrofits. SkyTrac does a good job of retrofitting Hall lifts, if we could use existing tower bases and tower tubes, take the crossarms off, and take out those double terminals, we could turn those doubles into triples. Or, if we went with a new lift, possibly picking up and moving one of the Hall doubles over to there [the T-Bar].

We want to develop some winter recreation opportunities for non skiers so hopefully we can get them there and turn them into skiers too with tubing and an outdoor skating rink. Nothing big, but everyone in Lewiston-Auburn skates; it's a big hockey town. Not really a hockey arena, but family skating under the lights, music, and that kind of stuff.

Q: What is your long term vision for the ski area?
The long term vision for the ski area is to have the biggest ski school in the State of Maine; to be the number one most important feeder area for the bigger areas in the state: Sugarloaf, Sunday River, Saddleback. Lost Valley historically was an important feeder area and I want to get back to that. We still have a large ski school, bit it could be bigger. We want to get all the school groups back; we want the place packed with buses on Tuesday afternoon. We want to turn it into a year round recreational facility here in Central Maine.

Q: Lost Valley has notable banquet and paintball operations. Do you plan to continue these in the future?

On a limited basis. We are not going to be a wedding planning and hosting facility. That said, if groups want to come in and rent space and have us cater some food, we're not opposed to that, but that's not going to be where I'm going to invest my money; I'm investing my money out on the hill.

Back when they developed the banquet facilities, they were kind of the only game in town. There's a lot of competition in the area for that stuff now, much more modern facilities. Lost Valley's a beautiful area, but the facility needs upgrades to really make it nice. In the future, with the right person to promote and run it, so be it.

Q: In your opinion, what makes Lost Valley a special ski area?
To be honest, I have never even put skis on my feet at Lost Valley, however seeing hundreds of other ski areas all over, it's a beautiful little area. It has a very devoted following. People love Lost Valley. It's a strong community.



Related Stories on NewEnglandSkiIndustry.com


More Information


comments powered by