Ascutney Rope Tow Permit Approved by State
Ski area expected to reopen this winter with free skiing.
Wednesday, November 4, 2015, NewEnglandSkiIndustry.com
The State of Vermont Natural Resources Board approved Mount Ascutney Outdoors' rope tow permit on Tuesday, putting the group's ski area reopening plans one step closer to reality.

The approved Vermont Act 250 filing by Mount Ascutney Outdoors and current landowner MFW Associates calls for a 1,000 foot long rope tow to be installed for this winter, climbing some 200 vertical feet. Using 20 foot telephone poles, the lift will follow a line similar to the upper portion of the former Village Triple. The proposed rope tow is expected to be powered by 37.5 horsepower Wisconsin Internal Combustion engine from one of the former Ascutney chairlifts, using old utility poles and steel car rims.

Free skiing is expected to be offered in hopes of drawing locals back to the area, which has not operated since 2010. According to a local property owners organization, some $20,000 will need to be raised in order to open the rope tow operation this winter.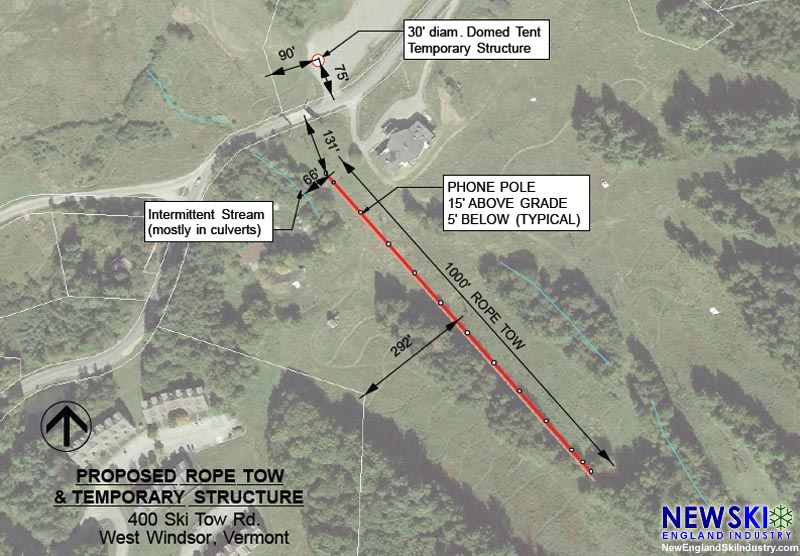 Plans to Reopen Ski Area
The Town of West Windsor is working with Mount Ascutney Outdoors to provide skiing, biking, horseback riding, and special events on the property.

Three trails would be served by the lift this winter: Screaming Eagle, Dipsy Doodle, and Easy Rider. Grooming would be provided by volunteers using snowmobiles. No base lodge facilities would be offered, however a tent and fire pit would be in place.

In addition, backcountry skiing would be permitted on the upper mountain.

According to a local property owners organization, 2016-17 plans call for a chairlift to be installed, terminating just above the former summit triple mid station, serving trails below 1,500 feet in elevation. In addition, the roughly 700 vertical foot lift would serve mountain biking terrain. Snowmaking is also in the plans, as is a tubing facility.

Background
Originally developed as a surface lift ski operation in the mid 1940s, the financially troubled Ascutney Mountain ski area last operated amidst foreclosure proceedings during the 2009-10 season. The high speed quad was removed in 2012 and the triple chairlifts in 2014. The remaining double chairlift is not currently functional. The Town of West Windsor approved the acquisition of the defunct ski area on October 14, 2014. On January 8, 2015, the main lodge was lost to a fire.

Land Transfers
Current land transfer plans call for the transfer of two tracts to the Town of West Windsor to take place by December 31, 2015. The subdivision was approved by the State of Vermont on July 31, 2015.

460 acres containing the bulk of the ski terrain is to be purchased by Trust for Public Land, then transferred to town with a conservation easement held by Upper Valley Land Trust. Since Federal funds will be used, many restrictions are expected to be placed on the property, limiting potential future ski operations. According to a October 24, 2015 WCAX report, $54,000 in funds still need to be raised for the land purchase.

Pursuant to the regulations around the Federal funding and local easement control, commercial ski operations would likely be banned. In addition, maintenance of the upper mountain ski trails would be prohibited. The town would, however potentially be allowed to have alpine skiing below 1,500 feet in elevation, roughly lining up with the former summit triple chairlift mid station.

A 3.38 acre tract at the base of the Screaming Eagle trail is expected to be purchased by the town and not have as many use restrictions. The tract includes the maintenance building and original base lodge.

Snowdance LLC and MFW Associates are expected to retain the 2.19 acre burned main lodge tract and 38.5 acre "Mile Long Field" tract.

Ski Area Organizers
A local non-profit group, Mount Ascutney Outdoors was established as a Vermont business entity on September 13, 2015. Art Keating of Brownsville is listed as its President, Linda Stillson of Windsor its Vice President, Brian Quirk of West Windsor its Secretary, and Linda Quirk of West Windsor its Agent. Laura Farrell, founder Vermont Adaptive Ski and Sports and the Vermont 50 race, is the Executive Director.

mountascutneyoutdoors.org was registered by the group on August 16, 2015. A Squarespace web site was briefly posted with a mission statement "to manage, develop and protect the recreational, educational, and environmental status of the West Windsor Town Forest and adjacent land on Mt. Ascutney, while maintaining affordable acces [sic] for all, for their year-round enjoyment." In recent months, the site has been placed behind a password protected wall.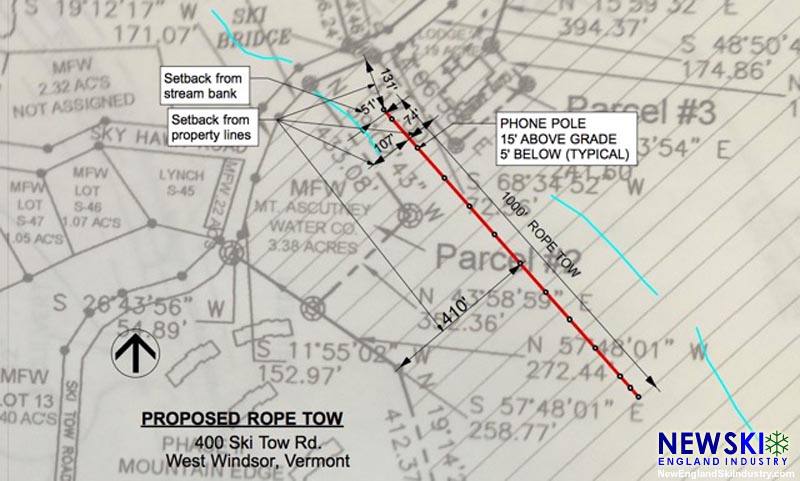 Proposed Mt. Ascutney rope tow map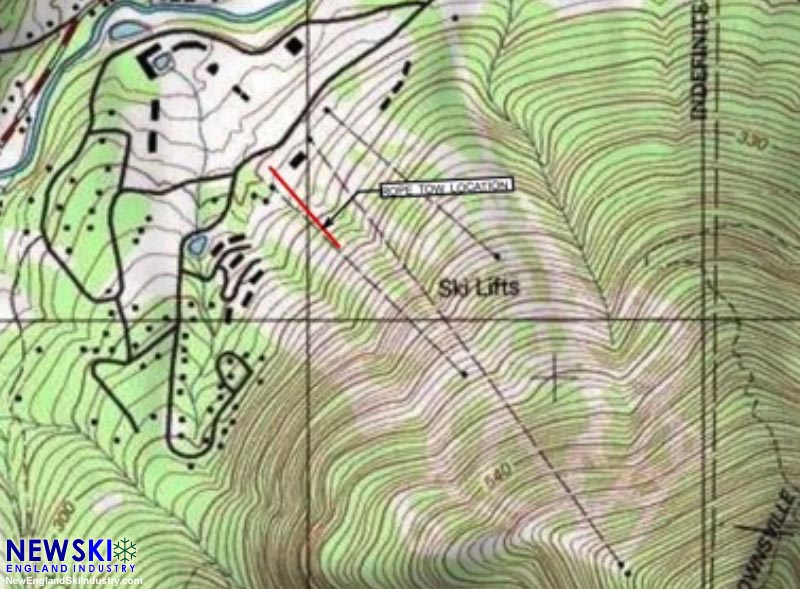 Proposed Mt. Ascutney rope tow USGS map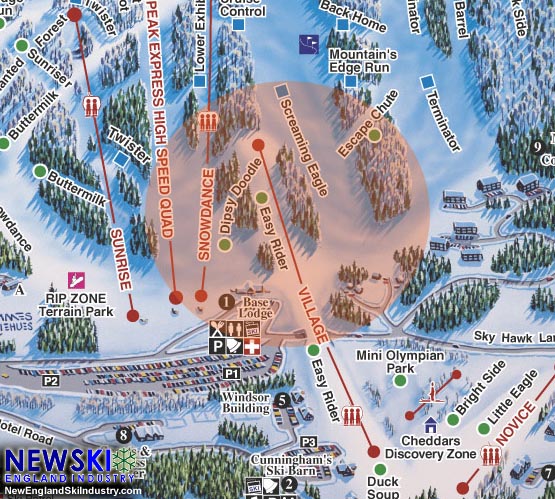 Mt. Ascutney Trail Map with 2015-16 proposed lift served area in orange



Related Stories on NewEnglandSkiIndustry.com


More Information


comments powered by