Massachusetts 2017-18 Lift Ticket Prices Up 2%
The Bay State's average weekend non-holiday adult ticket price is now $56.68.
Wednesday, November 8, 2017, NewEnglandSkiIndustry.com
---
With the ski season around the corner, chairlift served ski areas in Massachusetts have set 2017-18 season rates.

Jiminy Peak is once again tops in the state with an $76 adult weekend full day lift ticket price, a $2 increase over 2016-17. Wachusett was the second area in state history to cross the $70 threshold, setting their rate at $71.

The cheapest chairlift area in the state is once again Otis Ridge, holding at $40 for the third season. Blue Hills was the only area to cut its rate, dropping a weekend day from $47 to $45.

The 2017-18 statewide mean is $56.68 per adult non-holiday weekend full day lift ticket, a 2% increase. The median price was unchanged at $53.50. The 2016-17 mean was $55.50 (3% increase over 2015-16).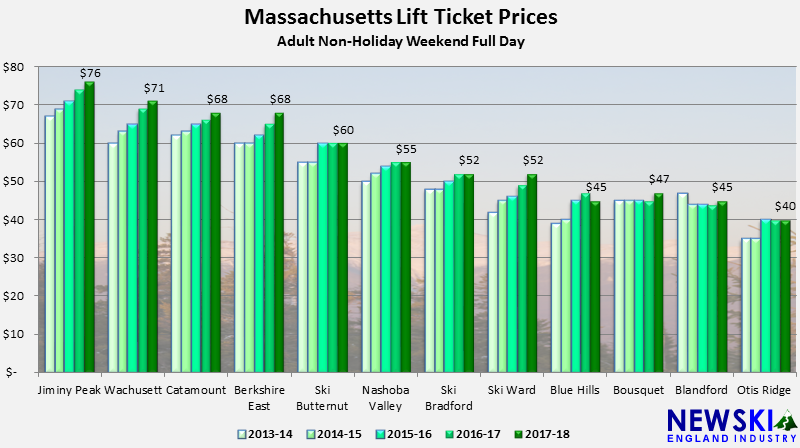 2013-14 through 2017-18 Massachusetts Lift Ticket Prices


Massachusetts Historic Lift Ticket and Season Pass Price Timeline - NewEnglandSkiHistory.com

Related Stories on NewEnglandSkiIndustry.com
Jiminy Peak Employee Killed in Snowmaking Accident - January 5, 2022
Massachusetts 2016-17 Lift Ticket Prices Up 3% - November 21, 2016
Jiminy Peak Solar Farm Goes Online - October 28, 2015
Jiminy Peak to Install Solar Farm - April 17, 2015
Ski Areas Opening Across New England - November 14, 2014
Blue Hills To Receive State Funds for Snowmaking Improvements - August 17, 2014
Blue Hills May Receive State Funds for Snowmaking Improvements - August 2, 2014
More Information
comments powered by