New Hampshire Lift Ticket Prices Up 3%
The average weekend non-holiday adult ticket price is now $66.
Wednesday, December 7, 2016, NewEnglandSkiIndustry.com
---
Following the rough 2015-16 winter, New Hampshire adult weekend ticket prices at chairlift served areas are up 3 percent.

For the first time in a decade, Loon has surpassed Bretton Woods as the most expensive in the Granite State. Loon's full day lift ticket is now $95, a whopping 12% increase over last season's non-holiday weekend day rate. Bretton Woods held their rate at $89.

Waterville Valley, the only ski area significantly expanding its skiable terrain, increased its rate by $4 to $81 (5%).

Campton Mountain remains the cheapest chairlift served ski area in the state at $15.

Tenney Mountain is planning to reopen in late December, but has not announced its rates.

The 2016-17 statewide mean is $66.11 per adult non-holiday weekend full day lift ticket, a 3% increase over 2015-16. The median price is $72.00, also a 3% increase. The 2015-16 mean was $64.42 (3% increase over 2014-15) and median $70.00 (9% increase over 2014-15).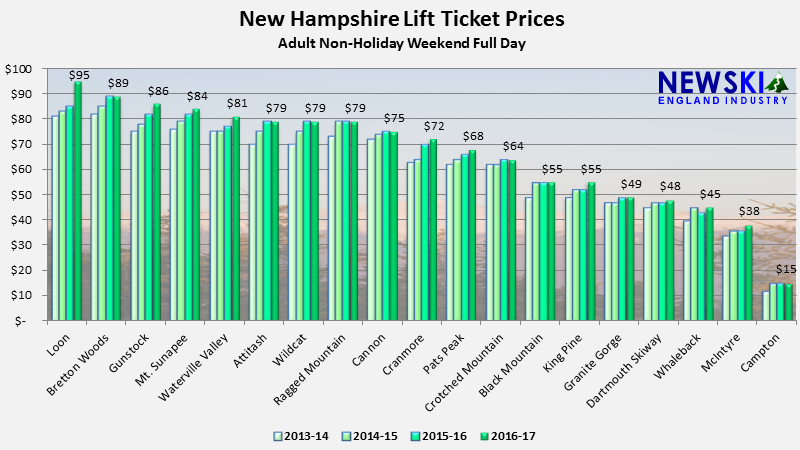 2013-14 through 2016-17 New Hampshire Lift Ticket Prices


New Hampshire Historic Lift Ticket and Season Pass Price Timeline - NewEnglandSkiHistory.com

Related Stories on NewEnglandSkiIndustry.com
Loon Unveils Map of New Timbertown Expansion - August 24, 2023
New Hampshire Construction Projects Progressing - August 6, 2023
Mid-June 2023 Lift Construction Roundup - June 11, 2023
Early May 2023 Lift Construction Roundup - May 7, 2023
Loon Mountain Coaster Proposal Approved by Forest Service - March 20, 2023
Loon South Peak Expansion Underway - March 4, 2023
Loon Announces South Peak Expansion - October 24, 2022
Loon and Waterville Valley Lift Projects Taking Shape - October 23, 2022
New Hampshire Lift Construction Makes Progress - October 1, 2022
New Hampshire Lift Construction Projects Progressing - August 16, 2022
More Information
comments powered by