Connecticut and Rhode Island Lift Ticket Prices Up 1%
The average weekend non-holiday adult ticket price is now just shy of $54.
Tuesday, December 6, 2016, NewEnglandSkiIndustry.com
---
With snowmaking just around the corner, ski areas in Connecticut and Rhode Island have set 2016-17 season rates.

Mohawk Mountain now has the highest ticket price in the region at $62 for an adult weekend full day, a $2 increase over last season. Woodbury has held their rate at $39, making them the cheapest in Connecticut and Rhode Island.

The mean adult full day lift ticket in Connecticut and Rhode Island is $53.80, a 1% increase from 2015-16. The mean ticket price also increased by 1% from 2014-15 to 2015-16.

The median ticket price remains unchanged at $56.50. 2015-16's median ticket price was a 2% increase over 2014-15.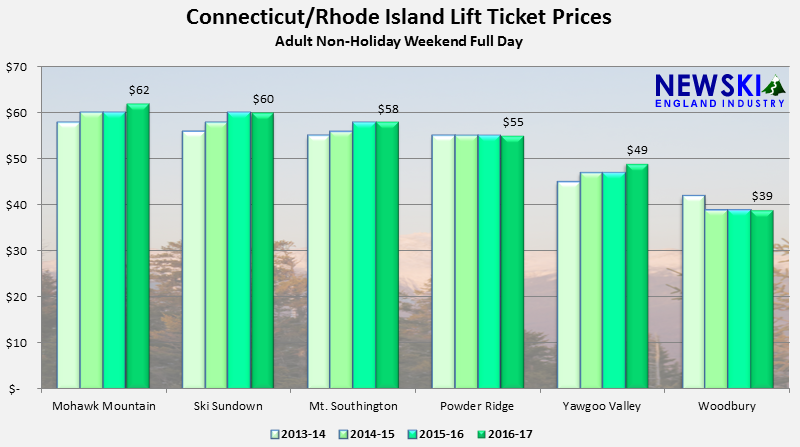 2013-14 through 2016-17 Connecticut-Rhode Island Lift Ticket Prices


Connecticut Historic Lift Ticket and Season Pass Price Timeline - NewEnglandSkiHistory.com

Related Stories on NewEnglandSkiIndustry.com
Woodbury Listed For Sale Again - July 28, 2022
Ski Areas on the Bubble - November 15, 2021
Connecticut and Rhode Island Average Lift Ticket Price Remains the Same - September 13, 2019
Multi-Area Passes Growing in Popularity - March 6, 2019
STUDY: Probability of Lost New England Ski Areas Reopening - November 7, 2018
Connecticut and Rhode Island Lift Ticket Prices Up 1% - October 10, 2018
Woodbury Ski Area Updates Status to Permanently Closed - December 12, 2017
Ski Areas Open in 5 States This Weekend - December 8, 2017
Connecticut and Rhode Island Lift Ticket Prices Up 2% - October 8, 2017
EXCLUSIVE: Woodbury Ski Area For Sale, Preparing to Reopen - September 12, 2017
More Information
comments powered by