REPORT: Granite Gorge Chairlift Accident May Have Been Vandalism
Chairlift grip failure on January 31 resulted in the evacuation of the lift.
Wednesday, March 2, 2016, NewEnglandSkiIndustry.com
---
Vandalism may be to blame for the January 31 chairlift accident at Granite Gorge, according the Keene Sentinel.

According to the article, Granite Gorge owner Fred Baybutt "said he believes vandalism was at play, and said he's heard of similar issues at other nearby ski areas. He offered no specifics and declined otherwise to comment on what happened at Granite Gorge, citing the ongoing probe. He said he's since installed extra lighting and surveillance cameras at the ski area."

Roxbury Fire Chief Robert O'Connor was quoted as saying, "[o]ne possibility is that it was vandalized."

The article also quotes State Fire Marshal Investigator Eric Berube as saying, "I still have some more work to do in this investigation before I can make any determination as to whether or not vandalism could have been a factor."

Two people were taken to the hospital on January 31 when a chair slid back on the haul rope into another chair. According to the Granite Gorge statement, all passengers involved were 'OK.' The lift resumed operating later that week.

Located on Route 9 east of Keene, Granite Gorge was opened on the site of the defunct Pinnacle ski area in 2003. Prior to 2005, Granite Gorge and the Pinnacle were serviced exclusively by surface lifts.

A refurbished Borvig chairlift was installed at Granite Gorge in 2005. The lift was originally installed at Devil's Elbow, Ontario in 1981. Borvig lifts have come under increased scrutiny in recent years following deropement and rollback accidents at Sugarloaf in 2010 and 2015 and a cross arm failure Timberline, West Virginia last month.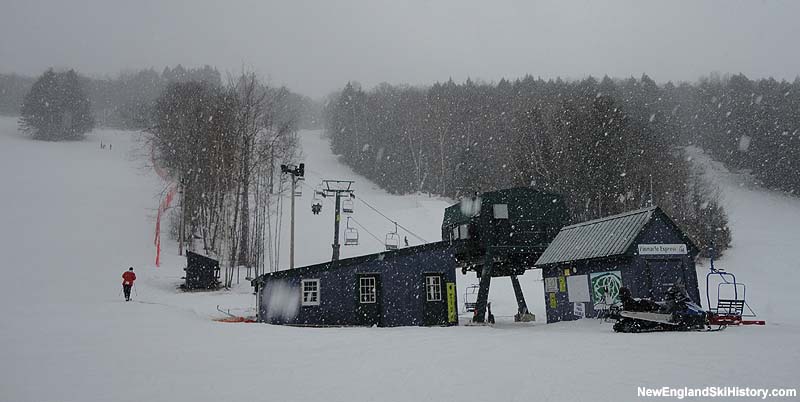 The Granite Gorge chairlift in 2013


Incident report: Inside Granite Gorge's chairlift inspections, mishaps - Keene Sentinel

Related Stories on NewEnglandSkiIndustry.com
Resurrected Granite Gorge and Tenney Mountain Ramp Up Operations - February 18, 2023
Granite Gorge Reopens - January 15, 2023
Reopening Work Continues at Granite Gorge and Tenney Mountain - December 11, 2022
Reopening Work Continues at Granite Gorge and Tenney Mountain - October 17, 2022
Reopening Work in Progress at Granite Gorge and Tenney Mountain - September 13, 2022
Granite Gorge Sold at Auction - June 6, 2022
Granite Gorge Facing Auction Again - May 9, 2022
Defunct Since COVID - January 29, 2022
Granite Gorge to Remain Closed - December 7, 2021
Granite Gorge Owner Passes Away - August 8, 2020
More Information
comments powered by