Burton Snowboards Founder's Family Blamed for Stowe Stone House Fire
State reportedly identifies Jake Burton Carpenter as reservation holder the day of the fire.
Friday, February 19, 2016, NewEnglandSkiIndustry.com
---
According to Stowe Today, the Christmas Eve Stone House fire was accidentally caused by the family of Burton Snowboards founder Jake Carpenter. All wood components, including the roof, floor, and furniture, were lost. Further inspections will be required to see if the stone walls and chimney can be reused.

According to Stowe Today, Carpenter had the historic state owned cabin reserved for Christmas week, and his family had received lottery-based reservations for the cabin at least twice a year for the last half decade.

According to Stowe Today, Carpenter requested his sons prepare the hut for a friend on December 23.

According to the Vermont State Police, the Carpenters built a fire, propped the stove door "open slightly with another piece of wood in an attempt to keep the stove drafting," and "left the stove burning, locked the door, and left the mountain."

According to Stowe Today, when the Carpenters realized their friend would not be going to the Stone House that night, the Carpenters "'figured if there was a fire, it had already happened,' and it would take them about two hours to get to it. 'They stated they never called anyone to let them know about the stove.'"

The fire was first spotted by Stowe employees early on Christmas Eve. While local fire fighters extinguished the initial fire, it caught again that afternoon, resulting in a second fire fight into the evening. According to Stowe Today, when the Carpenters learned of the fire, the went to the mountain and offered to provide their assistance.

The Department of Forest, Parks, and Recreation is confident the hut will be rebuilt. The State Parks foundation, Vermont Parks Forever, has started a fundraiser for the effort.

The 12-person hut, located atop the present day Fourrunner Quad chairlift, was constructed in part by the Civilian Conservation Corps from October of 1935 to January of 1936. The stones were gathered from stone walls in Stowe. Due to high demand, reservations for the $225 per night hut were managed by a lottery system. A $200 deposit was required against potential damage.

Ironically, Jake Burton Carpenter's first "signature snowboard" was named "The Stone Hut" in honor of the historic structure.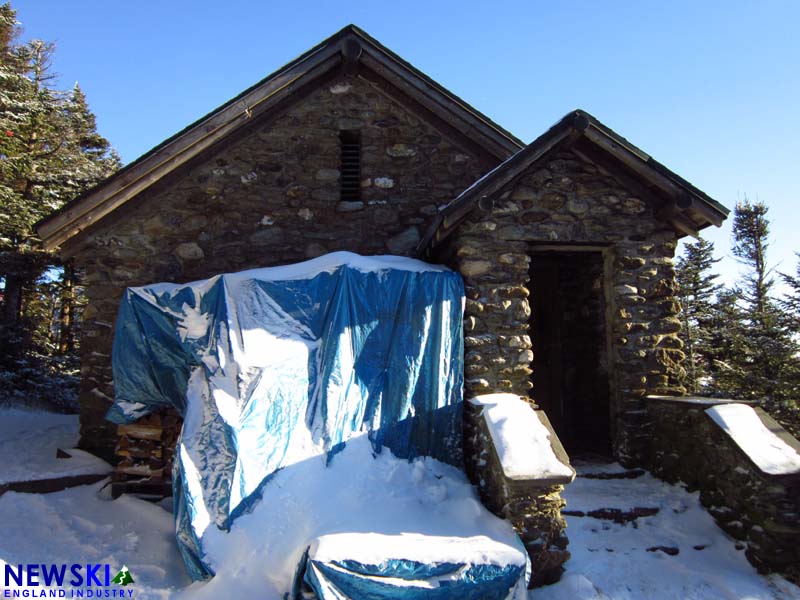 The Stone Hut in 2011


Stone Hut fire traced; donations pour in - Stowe Today

Related Stories on NewEnglandSkiIndustry.com
Plans Emerge for Smugglers Notch to Stowe Lift - June 1, 2023
Mid-Fall Lift Construction Continues - November 6, 2022
Sugarbush Sets New England Record with $170 Lift Ticket - October 16, 2021
Vail Announces Four New Lifts for 2022 - September 24, 2021
Vail Releases Information About 2020-21 Operations - August 27, 2020
Stowe Sets New England Record with $147 Lift Ticket - December 19, 2018
Vermont Lift Ticket Prices Up 8% - November 27, 2017
Vail Proposes Additional Parking Expansion at Stowe - September 23, 2017
Vail Completes Stowe Transaction, Plans Parking Expansion - June 9, 2017
Vail Resorts Announces Purchase of Stowe - February 21, 2017
More Information
comments powered by