Dozens Evacuated from Cannon Mountain Tram
Tram passengers were stuck on the lift for nearly three hours during record cold temperatures.
Sunday, February 14, 2016, NewEnglandSkiIndustry.com
---
48 people were evacuated from the Cannon Mountain tramway during bitter cold weather on Sunday afternoon.

Initial reports of a tram incident were sent to NewEnglandSkiIndustry.com News shortly after 2 PM. According to a Cannon Mountain press release, the brakes on the lift became stuck with the cars 50 to 75 feet from the terminals. WMUR reporter Paula Tracy observed a "severe jolt" before the lift came to a stop.

The lift halted at 1:50 PM and the evacuation began 90 minutes later. The evacuation was completed at 4:45 PM, nearly 3 hours after the stoppage. Passengers included sightseers wearing jeans and an 8 month old baby. Passengers had to be lowered through the bottom of the tram cars to the ground by cable. According to Tracy, "[i]t was a bit harrowing, especially to be lowered from the floor of the tram on a cable."

The local Whitefield Airport weather station reported the base temperature at -2F at the start of the incident. The daily low at the airport was -20F, recorded shortly before the tram opened for the day.

The 36 year old lift opened during the 1979-80 ski season, replacing the original 41 year old American Steel & Wire lift. The State of New Hampshire spent $1 million in repairs and upgrades on the lift in 2001. In recent years, the lift has operated on a part time basis during ski season.

The 70 passenger tram is one of only two such lifts in New England.

The lift is expected to reopen "as soon as possible."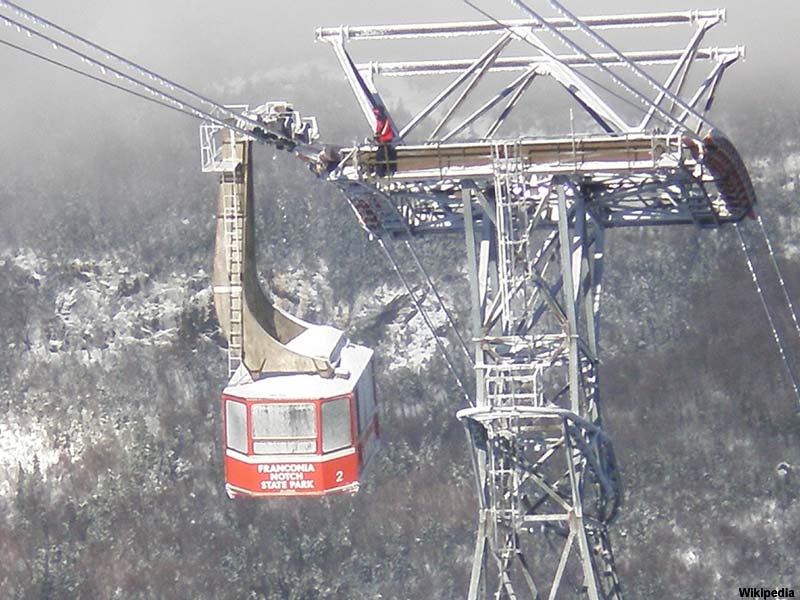 Cannon Mountain Tram in 2011


48 people evacuated from stranded tram cars on Cannon Mountain Aerial Tramway - WMUR

Related Stories on NewEnglandSkiIndustry.com
Cannon Seeking $10 to $30 Million for Tramway - July 23, 2021
Trail Work Projects Underway in New England - August 15, 2017
Growing Problems at Camden Snow Bowl - April 25, 2017
Lift Construction Continues into New Year - January 6, 2017
Cannon Mittersill Project Problems Mount - December 26, 2016
2016 Lift Install Season Tied for Worst in History - December 12, 2016
Cannon Mountain Posts Large Loss as Cumulative Deficits Exceed $9 Million - October 31, 2016
New England Lift Construction Projects Progressing - October 10, 2016
Mittersill T-Bar Installation in Progress at Cannon Mountain - June 19, 2016
More Information
comments powered by