2 Injured in Chairlift Accident at Granite Gorge
Lift has been shut down pending Tramway and Amusement Ride Safety investigation.
Monday, February 1, 2016, NewEnglandSkiIndustry.com
---
Two people were taken to the hospital Sunday afternoon following a chairlift accident at Granite Gorge, according to the Keene Sentinel.

According to the Sentinel, the Keene Fire Department responded to the scene and found two chairs had collided, trapping four skiers.

Two of the skiers were transported to Cheshire Medical Center/Dartmouth-Hitchcock Keene, while the other two declined transport. Three other skiers were evacuated from the lift by 3:30.

The lift is closed, pending a Tramway and Amusement Ride Safety investigation. Granite Gorge plans to reopen on February 3, according to SnoCountry.

Located on Route 9 east of Keene, Granite Gorge was opened on the site of the defunct Pinnacle ski area in 2003. Prior to 2005, Granite Gorge and the Pinnacle were serviced exclusively by surface lifts.

A refurbished Borvig chairlift was installed at Granite Gorge in 2005. The lift was originally installed at Devil's Elbow, Ontario in 1981. Borvig lifts have come under increased scrutiny in recent years following accidents at Sugarloaf in 2010 and 2015.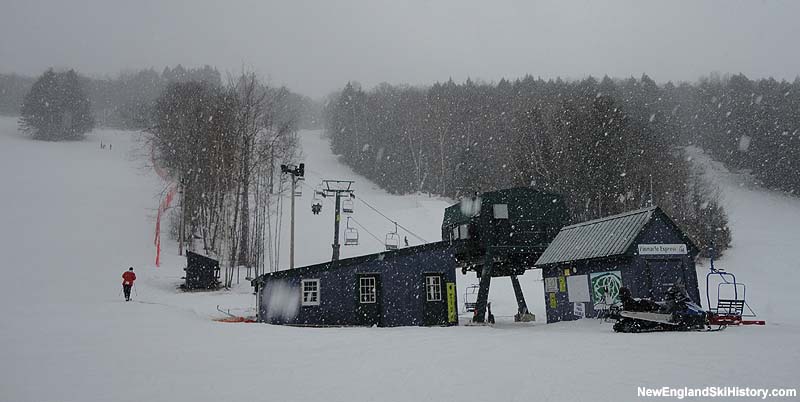 The Granite Gorge chairlift in 2013


Two taken to the hospital following a ski lift accident Sunday - Keene Sentinel

Related Stories on NewEnglandSkiIndustry.com
Resurrected Granite Gorge and Tenney Mountain Ramp Up Operations - February 18, 2023
Granite Gorge Reopens - January 15, 2023
Reopening Work Continues at Granite Gorge and Tenney Mountain - December 11, 2022
Reopening Work Continues at Granite Gorge and Tenney Mountain - October 17, 2022
Reopening Work in Progress at Granite Gorge and Tenney Mountain - September 13, 2022
Granite Gorge Sold at Auction - June 6, 2022
Granite Gorge Facing Auction Again - May 9, 2022
Defunct Since COVID - January 29, 2022
Granite Gorge to Remain Closed - December 7, 2021
Granite Gorge Owner Passes Away - August 8, 2020
More Information
comments powered by