Maine 2015-16 Lift Ticket Prices Up 4%
Average weekend non-holiday adult ticket price is now $50.
Sunday, January 10, 2016, NewEnglandSkiIndustry.com
---
With the midpoint of ski season quickly arriving, all but one of the chairlift served ski areas in Maine have opened and finalized their 2015-16 season rates. Saddleback ($69 in 2014-15) has neither opened nor posted rates for this season, so it was excluded from analysis.

Sunday River is once again tops in the state with an $89 adult weekend full day lift ticket price, unchanged compared to its rate in 2014-15. The cheapest chairlift area in the state is now Big Squaw, which held at $25. Big Squaw was tied with Black Mountain last season, but the latter increased its rate by $4.

The 2015-16 statewide mean is $49.80 per adult non-holiday weekend full day lift ticket, a 4% increase. The median price is $42, a 6% increase. The 2014-15 mean was $47.90 (3% increase over 2013-14) and median $39.50 (1% decrease over 2013-14).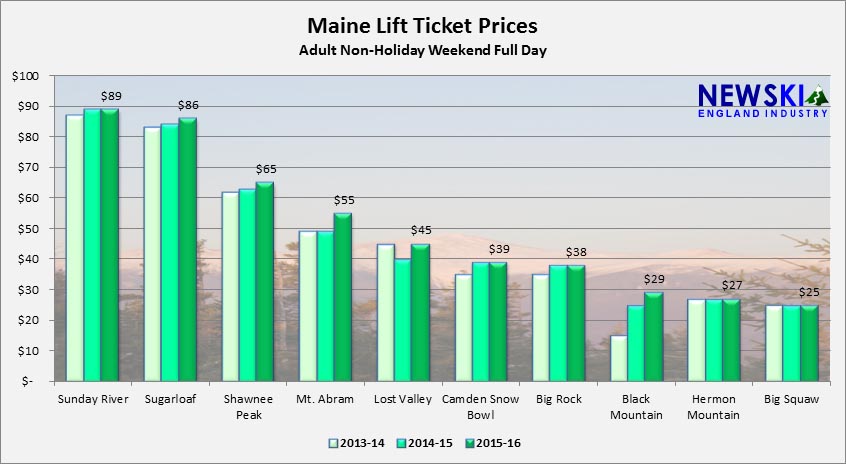 2013-14 through 2015-16 Maine Lift Ticket Prices


Maine Historic Lift Ticket and Season Pass Price Timeline - NewEnglandSkiHistory.com

Related Stories on NewEnglandSkiIndustry.com
More Information
comments powered by