Tenney Mountain Chairlift Passes Inspection
Plymouth ski area is one step closer to reopening.
Saturday, December 5, 2015, NewEnglandSkiIndustry.com
---
Tenney Mountain's Eclipse Triple passed its New Hampshire Tramway Board load test on Friday, putting the ski area one step closer to reopening.

32,500 pounds of water was pumped into trash bag lined boxes that were placed on the chairs to simulate a fully loaded lift. Tensioning and brakes were successfully tested, including a rollback scenario similar to what happened at Sugarloaf last season. According to Tenney Mountain's Facebook page, the lift passed the tests and is now certified by the state to operate this season.

Tenney still has three lifts awaiting state certification, including the Hornet Double chairlift. Snowmaking is only expected to take place on terrain serviced by the Eclipse Triple and two surface lifts this season.

While the pipelines on the Eclipse side of the mountain are now functional, snowmaking has yet to take place at Tenney this year. The area has been aiming for a December 15 opening.

Located just outside of Plymouth, New Hampshire, Tenney Mountain ski area first opened in 1960. After repeated struggles in recent decades, the 1,400 vertical foot ski area closed in 2010. Bouchard's Tenney Mountain Development Group acquired the property in November of 2014.

Learn more about Tenney's plans by reading the in depth NewEnglandSkiIndustry.com News interview with Sir Michael Bouchard.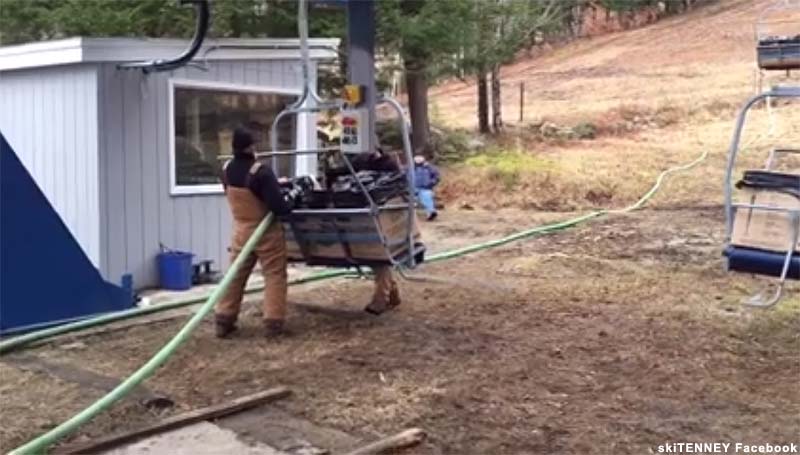 Eclipse Triple Load Test


Tenney Mountain Facebook Page

Related Stories on NewEnglandSkiIndustry.com
Tenney Mountain Hints at Reopening - May 5, 2022
Tenney Mountain Ski Area Sold - April 29, 2022
Defunct Since COVID - January 29, 2022
Could Tenney Open This Winter? - February 14, 2021
Tenney to Suspend Operations, Refund Season Passholders - December 31, 2020
Sunapee Retires the Duckling Double - January 3, 2019
Trail Work Under Way in New Hampshire - June 16, 2018
Tenney Mountain Announces Reopening of Ski Area - March 5, 2018
Tenney Mountain Presents Development Plans to Plymouth Planning Board - January 24, 2018
Former Tenney Mountain COO Sentenced to Prison - May 16, 2017
More Information
comments powered by