EXCLUSIVE: Interview with Tenney Mountain CEO Michael Bouchard (Part 2 of 3)
Reopening Tenney Mountain ski area
Monday, November 2, 2015, NewEnglandSkiIndustry.com
---
With Tenney Mountain's planned reopening just over a month away, CEO Sir Michael Bouchard sat down for an in depth NewEnglandSkiIndustry.com interview about his background, the reconstruction process, what the first season will look like, and what the future holds.

Located just outside of Plymouth, New Hampshire, Tenney Mountain ski area first opened in 1960. After repeated struggles in recent decades, the 1,400 vertical foot ski area closed in 2010. Bouchard's Tenney Mountain Development Group acquired the property in November of 2014.

Previous: Part 1: Who is Sir Michael Bouchard and why did he buy a defunct ski area?

Reopening Tenney Mountain Ski Area

Q: What plan/strategy have you followed in reopening the ski area?
This was an interesting operation because it was at end of life, meaning the lifts were at end of life. It was an engineering challenge to get them working. The mountain's plumbed and the infrastructure's here; they had millions and millions of dollars of development infrastructure. We're permitted for a couple of hundred homes. We probably have the ability to build up to 1,500 homes up here, so it just all made sense when you look at the whole picture.

Get the amenity back online, which was the ski area, even if it's limited, limited operation. Next year we could get more operating. But save the ski lifts, because if they lose their grandfather, this is all done. So that's the task we took on.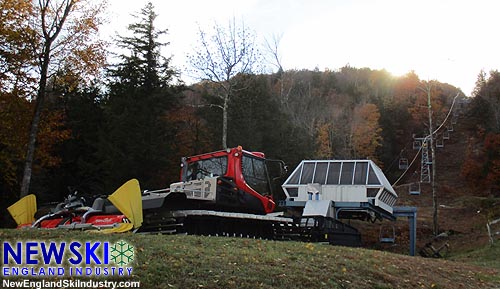 We took the task of focusing on saving the ski lifts, clearing trails, saving this building here [the lodge], because they go hand in hand, and that leads probably to the insurance question. When you get a lift certified, the whole place has to have insurance coverage on it. So you can't just save the lifts, you need to have the building operating, occupancy permit, so that forced us to get these things done.

Our business strategy was not to advertise at all so that we could get the systems re-acclimated, processes put back in the position. I was looking at it like a military operation, but it seems like everything's so compartmentalized in this industry that you can actually quickly get a ski patrol together, quickly get restaurant groups together, or a bar, quickly get an administration group together, a snowmaking group together, a grooming group together, and a carpentry/maintenance group. Because it was so compartmentalized, we are now going. It will be limited, but if we get full snow, it will be fully open.

Q: What has been the biggest challenge thus far in the reopening process?
Being a scientist, a jack of all trades, it's very frustrating when you can't become an expert on something specific. So the biggest challenge is actually, by not having any ski experience and going to shows, and having everybody come in, everybody's an expert. The challenge is being able to filter out what's reality, what is really needed, versus what isn't needed. Because everybody has great ideas, it's filtering through those thousands of ideas. I can't tell you how many people give me ideas every day.

The biggest challenge is keeping focus: lifts, lodge, snowmaking, certification; staying on that path without being derailed because there are so many great ideas. You can go on a tangent and before you know it, you're two, three, four hundred thousand dollars into something that's causing you to miss schedules and deadlines.

Q: Have there been any government issues, such as town and state permitting?
So the way I look at everything is immediate government, which is Town of Plymouth and Groton, the county, state, and Federal.

So the town, just like everybody else, was skeptical at first, because we didn't communicate. Even though we bought the property, it's not like the next day you go and tell everybody your plans. You still have the due diligence of the whole winter. We didn't talk to the town until the April/May timeframe. Who we were, introductions, and what we're trying to do.

We know that we have a big challenge issue with the other four developers that were here have failed the community and have failed the town, from paying taxes to having these grandiose ideas. So, before we even said anything, we were already the bad guys. In saying that, I think we have repaired that by having the Facebook page and being so honest and open and showing every day that people can interact, they can feel like they're part of the mountain, they can ask questions, and I get back to them hopefully that night or if not, the next day. They see that we're real people making a real effort. We're putting everything back into the community and the mountain. We live here.

The local town has been unbelievably supportive. Of course we're going through the permitting process and so on. It's not painful; it's actually enlightening to go through and make sure we've been doing things right, the way the town wants it.

From the county standpoint, working with the chambers or the rotary club, they've been absolutely 100% great, that's why we worked with the rotary club on this last fundraiser for the skateboard and recreation graffiti park, which was great. That worked out.

We're dealing with the state now and some things that we weren't aware of, like some of the DES rules with erosion. We didn't cause this erosion. It was created by years of neglect and four years of not having a landlord here, and at the top there's a state police tower, but these other people that rent, they all have equipment up there, and the four wheelers destroyed the terrain. We're learning that we're responsible for fixing that, with environmental scientists and so on, so we're following the rules as best we know them.

We just found out yesterday that we have to have special diesel permits for running the diesel pumps. We weren't aware of that. We didn't see any, "before you turn this on you need a special permit," so we're working now with the DES to get permits for that. It's been a give-take relationship, but more on the positive side.

Q: How many employees do you have right now?
6

Q: Which components of the snowmaking system have been salvageable?
One of the painful things we had to go through was that we couldn't save any of the air compressors. They're very expensive, quarter million dollar units. The problem is that they would never be EPA certified because the technology that was used by that air compressor blows oil onto the mountain. It's 10 or 12 percent oil that slips through and it finds its way out, so we had to scrap those units. Lucky for us, the two big motors happen to be the same big motors that we use for the pumps.

Now in the pump house, unfortunately people broke in there and stole all the copper. All the cooling system has been stripped out of there, so the challenge is we have to put in all of the cooling systems, simple plumbing that takes a month. Very expensive.

One of the diesels was destroyed, seized as you probably saw on Facebook. We're swapping that out with one of the air systems.

A lot could be salvageable. It's a very impressive plumbing system down there. It was done right, by Alfred Engineering. They spent a ton of money, $11 million, putting the plumbing system on the mountain, so there's a tremendous amount of plumbing on the mountain: air and water handling system and all the hydrants on both sides of the mountain with plenty of expansion onto the other peaks. All of the piping and tubing is up there. But the damage is being tested right now, meaning the damage of theft over the years, from signage on the mountain to the valves, for the copper and brass value.

For the most part, it's an engineering exercise of going through, getting things working in checklist order. Pumps, pump motors, air, plumbing infrastructure, testing it out hydrant by hydrant up the mountain as water's pushed up the mountain, making sure there's no leaks or breaks. We had four really major breaks that took three weeks of welding and patching, but we're there now.

Our final phase, or final fix, is this loop at the very bottom of the mountain. The water has to drain either back to the pump house or out somewhere in case we stop making snow and we gotta get water out of the lines. Unfortunately they don't have a drain valve, so we're actually putting one in, so we don't have a crisis like the last operator did and lose half the piping system.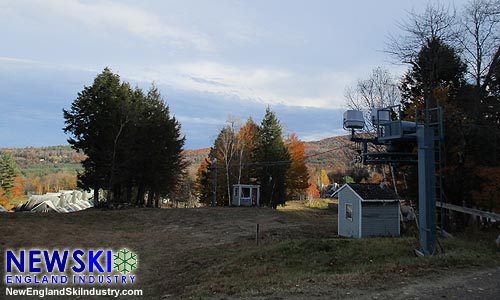 Q: What kind of snowmaking system will you be using this season?
I cannot say enough about Charles and Mark Houlton at HKD. They have been unbelievable. They have hand held. They have been up here many times. They have done engineering over and over for us, as we learn things on the mountain and they learn things on the mountain. They've been here. He was actually here yesterday. [I] spent the whole day with the owner. You don't get that kind of quality service anywhere.

We're using a lot of HKD fan guns and air and water guns, and the reason why we have a mixture up here of special guns that HKD actually makes, these tower guns, is because we have good old fashioned New England narrow long trails, and we're lucky we have the plumbing along it, but you can't put a fan gun up there. There's no power and it just blows too much snow if you could. So we need specially designed heads and they were willing to put that gear together for us and actually walk all of the trails, map it all out for us, identify where we had to put what equipment, and nice engineering drawings, which I know a tremendous amount of time and effort has gone into. So I can't say enough about HKD.

Q: You have water going to the top of the Eclipse Triple Chairlift. How many gallons per minute do you think you're going to be able to pump up there?
When that system's running at normal capacity, that one single pump does 350 gallons, but right next to it, that damaged diesel is a 750 gallon per minute pump, and once that's fixed, we'll have over 1,100 gallons per minute of water to be able run up there. That means we'll be able to turn on all of the snow guns. These snow guns draw 20 to 25 gallons per minute, so we'll be able to handle all the 60 guns that they're putting in, plus the fan guns of course, and we can get good coverage for the trails and then we'll come back and do the terrain park with the fan guns separately, which is still the same loop.

We're looking at 68 stick guns, 12 miscellaneous sleds, and 8 fan guns.

We've chosen not to put in tower fan guns; they're all moved around with groomers. We'll run 4 or 5 of them here [near the lodge]. We'll put 3 or 4 of them down at the tube park. That's going to need tremendous amounts of snow as well, and that loop's all good, awesome, ready to go. We have 8 hydrants down there. We can pump the hell out of that; we could put tons of pressure over there. So we'll be moving those fan guns back and forth.

Q: What will your grooming fleet consist of for this season?
Our grooming fleet this season consists of two Piston Bully Park Pro 400s and one 100. Josh at Piston Bully understood what our needs were, educated us, took the time. From an engineering standpoint, we were really impressed with the engineering quality and where they're going with their technology, and that's what we want to line ourselves up with.

We're doing one purchase and two leases. What we're going to try to do is have one new one in the fleet and one used one, every two years. That was their recommendation. That makes sense to us from a military standpoint. The little 100, we outright bought that. He keeps the Nordic trails clear and so on.

Q: How many lifts do you plan to have operational this season? What is the status of each lift today?
We're going to have 3 lifts 100% operating with the Hornet falling 4 to 6 weeks behind.

All hands are on deck for the Eclipse. That will be 100% operating. It's on its final phase.

The Platter is operational.

With the [wire rope tow], we had an accident; the brush hog accidentally caught it, ripped the cable off of it, so it's waiting for the cable to come in.

There are some waivers we're waiting for on the Hornet. Special bullwheel waivers. That's why there is a little bit of a delay.

Q: Tenney has not operated since Groton Wind was constructed. What kind of impact has the farm had thus far and how do you think it will affect ski area operations?
The impact I have is the people that hear rumors and don't really understand what these things are up at top of the mountain and how they really affect you. I believe it's going to have zero impact on us. The impact is psychological right now, listening to people talk about the wind blades are going to have ice buildup and that's going to throw ice and knock out people. That's just not realistic. Those systems are intelligent, they have heated blades; it just doesn't happen. If those things are out of balance, they're going to shut down. So that safety issue is not an issue. They're a thousand feet offset onto the other property.

Q: Aside from the initial purchase, how much money have you invested thus far to reopen in the ski area, and how much more do you plan to invest prior to the start of the season?
I think we're going to be over $4 million. That includes the purchase [$1.25 million]. [We've put] $700,000 into the lifts alone. Every penny went into repairs and upgrades. We have a small, small payroll here.

But the goodwill, you can't put a value on goodwill. I mean, all the engineering, and people from industry that have been helping us, it's been unbelievable. If we had to pay for that, that's probably another $2 million, easily.


Next: Part 3: 2015-16 operations and the future of Tenney Mountain



Related Stories on NewEnglandSkiIndustry.com


More Information


comments powered by