Stowe Sets New England Record with $115 Lift Ticket
2015-16 day ticket price is a $7 increase over previous season.
Friday, October 2, 2015, NewEnglandSkiIndustry.com
---
Stowe Mountain Resort recently released its 2015-16 lift ticket prices, setting yet another New England ski industry record. A retail weekend/holiday day pass, including a $5 RFID fee, will be $115.

Stowe was the first New England ski area to surpass the $100 lift ticket mark in 2014-15, when its price was $108 (including $5 RFID fee).

Stowe's ticket prices have increased by 25% in the past five years and 51% in the past ten.

The second highest ticket price announced in Vermont this season is Killington at $96.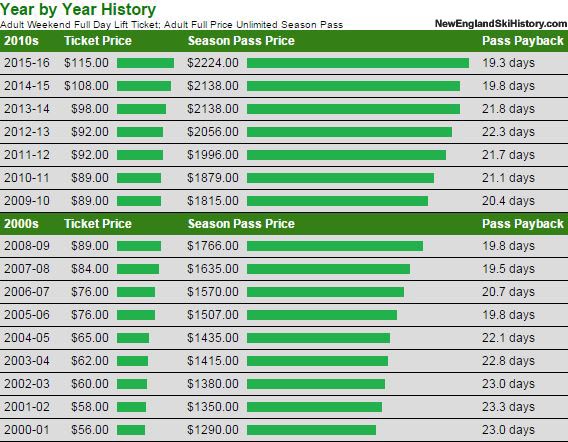 Stowe Pass Price History


2015-16 Vermont Ticket and Season Pass Prices - NewEnglandSkiHistory.com

Related Stories on NewEnglandSkiIndustry.com
Sugarbush Sets New England Record with $170 Lift Ticket - October 16, 2021
Vail Announces Four New Lifts for 2022 - September 24, 2021
Vail Releases Information About 2020-21 Operations - August 27, 2020
Stowe Sets New England Record with $147 Lift Ticket - December 19, 2018
Vermont Lift Ticket Prices Up 8% - November 27, 2017
Vail Proposes Additional Parking Expansion at Stowe - September 23, 2017
Vail Completes Stowe Transaction, Plans Parking Expansion - June 9, 2017
Vail Resorts Announces Purchase of Stowe - February 21, 2017
Vail-Stowe Rumors Continue to Fly - January 30, 2017
Vermont Lift Ticket Prices Up 3% - January 10, 2017
More Information
comments powered by