Work Underway at Tenney Mountain
Lift and snowmaking infrastructure being analyzed for reopening.
Wednesday, May 6, 2015, NewEnglandSkiIndustry.com
---
In a recent Facebook post, Tenney Mountain Development Group posted photos of new DemacLenko fan guns on a trailer, stating "everyone keeps asking the same old question over and over again about the 2015/2016 season... If a picture is worth a thousand words, then the two pictures below are very self explanatory."

According to the photos and descriptions, all chairs have been removed from the Hornet Double for inspection. The chair removal was conducted in recent weeks on the 50 year old Stadeli double chairlift.

No specifics were given about the two DemacLenko fan guns on the trailer, but the description was that "[o]ur snow engineering team have been all over the mountain these past three weeks evaluating what is needed for the 2015/2016 season and we are finalizing our snow making equipment vendors."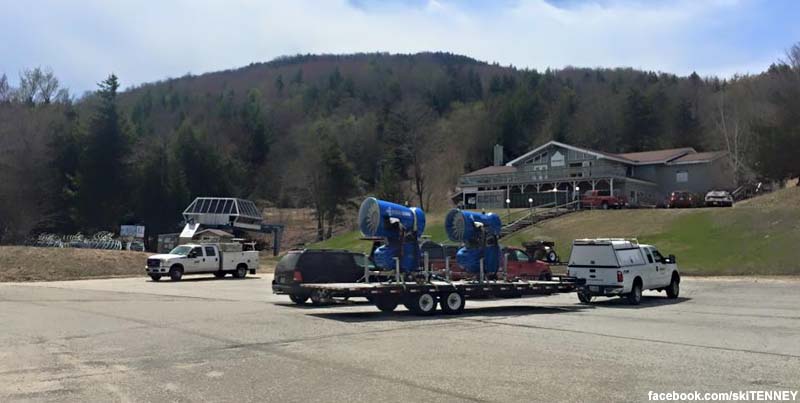 Tenney Mountain base area, May 2015

Located in Plymouth, New Hampshire Tenney Mountain first opened with lift service in December, 1960. After a bumpy operating history, the area most recently folded in 2010.

TMDG was formed in October 2014 and acquired the defunct ski area in November 2014, as reported on NewEnglandSkiIndustry.com. Led by Michael Bouchard, the new ownership reportedly plans to reopen Tenney for skiing in 2015-16 with a 6 to 8 year plan of significant expansion of skiing and non-skiing activities to follow.



Related Stories on NewEnglandSkiIndustry.com


More Information


comments powered by