STUDY: Probability of Lost New England Ski Areas Reopening
Chairlift served areas only have a 41% chance of coming back to life after closing for one season.
Tuesday, December 9, 2014, NewEnglandSkiIndustry.com
---
Recent stories about the liquidation of Ascutney, reopening of Eaton, and sale of Tenney have prompted a NewEnglandSkiIndustry.com study using data from NewEnglandSkiHistory.com.

The population surveyed was ski areas in New England that featured at least one chairlift or gondola and were closed for ski operations for one or more seasons. Of the sixty-three closures of a season or more, thirty seven were (to date) permanent.

According to the study, after one season of closure, ski areas have 41% chance of reopening. The probability drops to 30% if the closure exceeds one season. Following a half decade of closure, the probability of reopening is only 16%. Following a decade of closure, the probability of reopening plummets to 8%.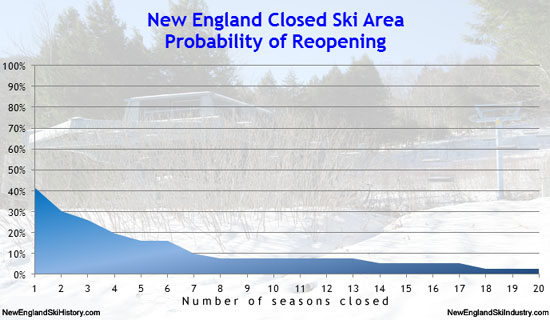 2014-15 will be Mt. Ascutney and Tenney Mountain's 5th consecutive season closed, whilst the Balsams will be marking its 4th idle season. If it fails to reopen this season as Plymouth Notch, the former Bear Creek/Roundtop ski area will mark its 5th consecutive idle season.



Related Stories on NewEnglandSkiIndustry.com


More Information


comments powered by