Concerns Mounting at Magic Mountain
The bad winter and unpaid taxes are plaguing the ski area.
Friday, April 8, 2016, NewEnglandSkiIndustry.com
Following the worst winter in modern New England ski history, there are growing concerns about the future of long-troubled Magic Mountain ski area. On April 1, 2016, the State of Vermont terminated two business entities associated with the ski area. In addition, debt is mounting and taxes have not been paid.

Ownership Background
Located in Londonderry, Vermont, Magic Mountain was originally opened in 1960-61 by Hans Thorner. In recent decades, the area has been plagued by financial problems, including a 6 year closure during the 1990s. Since reopening in 1997-98, the ski area has seen multiple owners and operators.

John "Larry" Nelson, whose family had owned a home at the mountain for decades and was reportedly owed $1 million, purchased the area with four partners in August 2002 for a reported $500,000. Nelson passed away in April of 2009, leaving his stake to his family.

Three main entities are involved in the ski area: an asset owner/mortgagor, a ski area owner/borrower, and a ski area operator.

According to sources, Nelson's family technically owns the ski area land and assets. The family is the primary mortgagor of the ski area, with a firm named Magic Mountain Management LLC ("MMM") serving as the borrower. Magic Mountain Resorts LLC ("MMR") then leases the ski area from MMM.

According to a source, the Nelson family transferred their stake in the MMM entity to minority owner Thomas Barker two years ago. Robert Lyszczarz is reportedly the majority owner of MMM while Thomas Barker is the sole proprietor of MMR. The Nelson family has expressed its goal is to see the property sold because they "want Magic to get back on track and to flourish as a ski area."

2015-16 Season
An ownership change was announced in August of 2015, with former Vice President of Marketing at Magic Geoffrey Hatheway's Ski Magic LLC announcing "long-term investment in its infrastructure to improve your ski experience (more snowmaking and fully operational lift system)." According to multiple sources, MMM backed out of the sale in September.

As was the case with most New England ski areas, Magic Mountain's 2015-16 opening was postponed in part due to weather. However, opening day was further delayed until January 16, due to lift issues. While the Red Chair finally passed its inspection, the Black Chair remains uncertified. The ski area closed for the season on March 13.

Financial Woes
MMR has been reportedly cash strapped for multiple years. In late 2014, Barker posted, "A lot of this year's season ticket revenue (that sold between March and July) was spent cleaning up costs for last year's operations. That cleanup was necessitated by the extensive high interest rate loans taken out in the fall for mountain opening. We are not doing that this year. But if we are not going to take out loans for opening and I've invested all I can afford then snowmaking will depends [sic] upon how fast we can sell season passes."

The 2015-16 was "dismal" and every employee has been laid off, but final results have not yet been computed. MMR is operating the ski area on a 5 year lease. 2016-17 season passes have not yet been announced.

According to multiple sources earlier this season, Magic Mountain has been operating without liability insurance for years. Requests for an update on this situation have not been returned.

Town property tax bills are sent to MMM. According to the Londonderry Town Treasurer, as of Wednesday MMM has not paid the 2015 property taxes, which were due on October 1, 2015.


Meanwhile, Ski Magic LLC remains an active Vermont business entity. When reached for comment this week, Geoff Hathaway said, "Despite our interest in putting Magic Mountain on a better long term path, there has been little interest or concrete discussions recently with the principals at Magic Mountain Management LLC."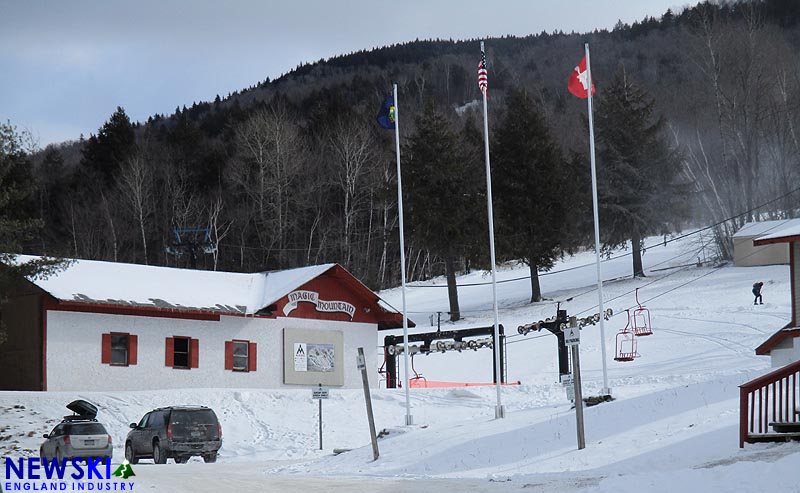 Magic Mountain in February 2016



Related Stories on NewEnglandSkiIndustry.com


More Information


comments powered by